Rotary Valve are designed to foster material throughput.
Press Release Summary: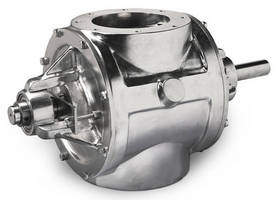 Due to internal barrel width and height, CDC-CI Series accommodates bulk applications where high-volume material throughput is required and where upstream and downstream equipment configurations dictate drop-in-type valve profile. In addition to 8-vane rotor design with beveled tips and sides, valves offer cast iron or 304 or 316 stainless steel construction, 4 flange diameters from 6–12 in., and 4 heights from 12–25 in. Options include 6-, 10-, or 12-vane rotor and adjustable rotor tips.
---
Original Press Release:

Rotary Valve Design Provides 3-times More Material Throughput per Rotation than Conventional Valve Designs with Same Size Flange Opening and Housing Profile



CALEDONIA, Ontario, Canada – ACS Valves. ACS Valves announces the CDC-CI Series of rotary valves designed specifically for those particular bulk material processing and production applications where very high-volume material throughput is required; and where upstream and downstream equipment configurations dictate a drop-in-type valve profile. To enable this high-volume material throughput, the ACS Valves CDC-CI Series rotary valve features an enlarged housing barrel. The CDC-CI barrel is cast wider and taller within its valve housing profile than are the barrels of conventional rotary valves. The large barrel-to-housing proportion, within the industry-standard housing profile of the CDC-CI rotary valve, ensures the dimensions of the CDC-CI Series housing profile remain consistent with industry-standard dimensions for valve housings. The CDC-CI Series fast and easy drop-in replacement design, together with its high-volume material throughput, make this rotary valve a flagship product in the ACS Valves Pre-fit Performance™ Series of rotary valves. The CDC-CI standard, 8-vane rotor design, complete with beveled tips and sides, contributes to total process efficiency by providing correct inlet and outlet sealing and, therefore, maintaining proper pressure differentials upstream and downstream of the CDC-CI Series valve, while also reducing compressed air requirements.



The CDC-CI Series valve housings are cast in North America to ensure superior strength in the composition and solidification of the housing's metallurgy; and to eliminate dimples, crevices, and pits in the housing's product contact, and non-contact surfaces. The CDC-CI Series housings are CNC-machined to precise tolerances; eliminating axial shaft movement, seal leakage, and shortened bearing life.



The CDC-CI Series rotary valves are available in cast iron, or 304 or 316 stainless steel. The CDC-CI Series is available in (4) flange diameters from 6 inches to 12 inches; and (4) heights from 12 inches to 25 inches. The CDC-CI rotary valve series is available with an optional 6-vane, 10-vane, or 12-vane rotor; and with adjustable rotor tip options of EPDM rubber, polyurethane, hardened steel, stainless steel, or bronze. The ACS Valves



CDC-CI Series offers the ACST-4™ glandless Teflon® shaft seal, to provide a micro-tolerance, self-lubricating seal to the rotor shaft; extending duty cycles, eliminating leaking and the need for seal adjustments. The ACS Valves CDC-CI Series is available with direct-drive or custom drive packages, as well as application-specific accessories, including: a blow-through adapter, shear plate deflector, surge hopper, or motion speed switch assembly.



ACS Valves

611 Argyle Street, North

Caledonia, Ontario N3W 1M1

Canada

P: 905-765-2004

W: acsvalves.com



Media Contact: Tim Wiersma

FGI

616.742.2476

timw@freemangroupinc.com



Corporate Contact: Megan Thompson

ACS Valves

More from Software