Rotary Stage provides 360-degree continuous travel.
Press Release Summary: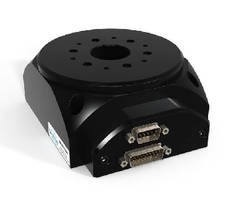 Exhibiting angular accuracy of 30 arcsec, repeatability of 3 arcsec, and 0.324 arcsec resolution, RTS-DD Series is suited for laboratory, factory automation, and semiconductor processing applications. Low profile design helps minimize abbe errors when used with another motion axis, while brushless direct-drive servo motor eliminates backlash. Series also features optical encoder with precision index mark for homing, and 30 mm through-bore to enable routing of vacuum or high-voltage lines.
---
Original Press Release:

Griffin Motion Announces its High-Precision, 360° Continuous Travel RTS-DD Series Rotary Motion Platform



Ideal for use in a variety of laboratory, factory automation, & semiconductor processing applications, RTS-DD Series rotary stages deliver superlative precision, accuracy, & repeatability at an unbeatable price/performance ratio within abbreviated lead-times



Apex, NC — Griffin Motion, a precision motion equipment manufacturer that designs and develops extremely precise modular and application-specific motion solutions that deliver accuracies from microns to nanometers, announces its high-precision, 360° continuous travel RTS-DD Series rotary motion platform. Exhibiting exceptional angular accuracy (30arcsec), repeatability (3arcsec), and resolution (0.324arcsec), in addition to high angular velocity (480deg/s), excellent axial and radial run-out (5µm), and exemplary wobble (10arcsec), RTS-DD Series rotary stages are ideal for use in a variety of laboratory, factory automation, and semiconductor processing applications, including: inspection, laser marking and machining, optical positioning, wafer alignment, and rate table, pan-and-tilt, and beam steering operations.



RTS-DD Series precision rotary stages feature a compact, low profile design that helps minimize abbe errors when used in conjunction with another motion axis, and a brushless direct-drive servo motor that eliminates backlash and improves reliability by eliminating sliding friction throughout the stage. The series also features a high-resolution optical encoder with a precision index mark for homing, and a 30mm through-bore to enable the convenient routing of vacuum or high voltage lines for a wide range of wafer chucks.



"RTS-DD Series precision rotary stages provide superlative precision, accuracy, and repeatability at an unbeatable price/performance ratio, and, by virtue of their clean, low-profile design and 30mm through-bore, enable easier and more convenient design-in than competing platforms," said Josh Houghton, chief operating officer, Griffin Motion. "We can also customize RTS stages with customer-specified mounting holes and application-specific positioning resolution within standard, and often even expedited, lead-times."



Made in the USA, the compact and low profile RTS-DD Series precision rotary motion platforms measure 133mm (5.24") x 110mm (4.33") x 55mm (2.17") with regard to length, width, and height. Standard lead-time for the series is four weeks, but expedited lead-times can be accommodated upon request.



For more information about Griffin Motion's high-precision, 360° continuous travel RTS-DD Series rotary motion platform (RTS-DD-100-M-D-A-P-0-00), please visit http://www.griffinmotion.com/rts-dd-100-m-d-a-p-0-00.html. For all other inquiries, please visit, http://www.griffinmotion.com/, email sales@griffinmotion.com, call 866-906-2709, or contact Griffin Motion at 1040 Classic Rd., Apex, NC, 27539.



About Griffin Motion

Established in 2005, Griffin Motion is a precision motion equipment manufacturer that designs and develops extremely precise modular and application-specific motion solutions that deliver accuracies from microns to nanometers in order to satisfy demanding customer performance requirements. Its comprehensive range of standard and customizable precision motion products include: Linear Stages (single axis motion), XY Stages (dual axis motion), Rotary Stages, and Elevator Stages (rigid Z-axis motion) that are ideal for use in semiconductor manufacturing, medical equipment, inspection/calibration, optoelectronic/photonic/laser, R&D, and nanotechnology applications.



Griffin Motion also designs, develops, and delivers completely custom precision stages to solve specific customer application challenges — including non-standard travel distances, multiple axes of motion, high vacuum requirements, wide temperature ranges, and Class 100 clean room environments — and commonly integrates its stages into assemblies designed specifically for OEM customers' platforms.



Headquartered in Apex, NC, its 20,000-square-foot manufacturing facility features complete in-house design, prototype, and machine shop capabilities for manufacturing, production, and testing. For more information about Griffin Motion, please visit http://www.griffinmotion.com/about/.



For more information, contact:

Josh Houghton

COO, Griffin Motion

919-577-6333 x110

jhoughton@griffinmotion.com



More from Material Processing