Rotary Saw cuts drywall and solid surface materials.
Press Release Summary: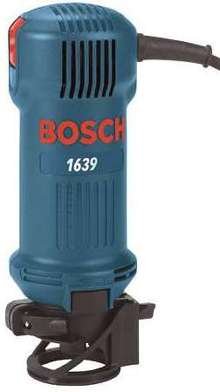 With 5 A motor, 2 speed settings, and adjustable base/depth guide, model 1639 cuts ceramic wall tile, cement board, particle board, plaster, lath, foam board, and composites. Bump-off switch allows for 1-handed operation with speeds of 25,000 and 30,000 rpm. Glass-filled nylon foot plate/depth guide adjusts in seconds and will not break or deform under pressure. Unit comes with 1/8 and 1/4 in. collet, two 1/8 in. general purpose bits, 1/8 in. guide-point drywall bit and collet wrench.
---
Original Press Release:
New Bosch Rotary Saw Offers Power and Convenience In the Palm of Your Hand
CHICAGO, November 21, 2002 -With a larger, more powerful 5-amp motor, two speed settings and a sturdier, easy-to-adjust, high impact base/depth guide, the new Bosch 1639 Rotary Saw offers professionals a versatile tool that allows for various cutting applications ranging from drywall to solid surface materials. Professional cut-out tool sales have increased dramatically since 1996 from less than 200,000 units to nearly 2.3 million units in 2000. Although growth flattened in 2001 due to the US economic slowdown and market saturation, future growth in the category will be driven by additional accessories, accessory improvements and as more applications are developed, with Bosch forging the path. Replacing the 1638 rotary saw, the new 1639 has 43 percent more power-from a 3.5-amp motor to a 5-amp motor -allowing for a wider range of applications. The 1639 is more than a drywall cut-out tool; it is a powerful tool that allows for versatile cutting applications including ceramic wall tile, cement board, particle board, plaster, lath, foam board and composites. The dual-speed design of the rotary saw offers the user an efficient way to cut plastics and solid surface materials. The two-speed bump-off switch allows for easy, one-handed operation with the slower speed (25,000 RPM) providing better control in thicker and/or harder materials, ceramic wall tile and solid surface materials, and the quicker speed (30,000 RPM) allowing for a fast, clean cut in most materials. The quick-clamp removable depth guide/base attaches, adjusts and detaches in seconds for added convenience. The high-impact, glass-filled nylon foot plate/depth guide is a better alternative to a metal plate for various reasons. Simply put, it will not bend or break easily and is non-marring. The new 1639 foot plate is made of extremely strong materials that ensure a sturdy support and will not break or deform (as metal does) when put under pressure. The 1639, also available in a kit as 1639K, accepts all 1/8" and 1/4" rotary saw bits -both Bosch and competitor bits -with collets included and no adapters necessary; while the spindle lock button allows for easy bit change. Additionally, a dust extraction hood and vacuum adapter are available for this tool. Many rotary saw applications, especially dry wall cutting, are dust-intensive. With remodelers especially concerned about the hazards of dust in their customer's home, this optional accessory is much needed for this type of tool. The 1639 comes equipped with: o 1/8" Collet o ¼" Collet o Two 1/8" General Purpose Bits o 1/8" Guide-Point Drywall Bit o Collet Wrench o Depth Guide/Base The 1639K comes equipped with: o 1/8" Collet o ¼" Collet o 1/8" Carbide Burr Bit o ¼" Carbide Burr Bit o Three 1/8" General Purpose Bits o Three 1/8" Guide-Point Drywall Bits o 1/8" Outlet Bit o Collet Wrench o Circle Cutting Guide o Depth Guide/Base o High Impact Poly Carrying Case Optional accessories include: o Dust Extraction Hood and Vacuum Adapter o Template Guide o 15' Vacuum Hose About Bosch Bosch was founded in Stuttgart, Germany in 1886. With its U.S. power tool division headquartered in Chicago, Bosch offers professionals and advanced do-it-yourselfers high-quality power tools that reflect thoughtful engineering and design, delivering efficient, creative and satisfying experiences with corded and cordless products. Long known for the innovations it has brought to the worlds of carpentry, masonry, fine woodworking and metalworking, Bosch has always been a leader in power tool design and ergonomics to ensure not only long-lasting tools, but also more effective and efficient operating practices throughout the trades. For more information on Bosch power tools, call toll free at 877-BOSCH-99 (877-267-2499) or visit www.boschtools.com. Beth Karkosak PR for Bosch Power Tools phone: (773) 481-7294 fax: (773) 481-3654 beth_karkosak@sbpt.com
More from Material Handling & Storage