Rotary Inkjet Printer features mirror UV inkjet printing.
Press Release Summary: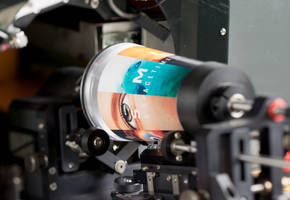 Rotary Inkjet Printer is designed to print a contoured image in any direction and on straight-walled or tapered cylinder. Unit uses laser alignment technology and is embedded with helix software. Product can print on transparent substrate and comes with Tone-on-Tone option. Printer's inkjet printing adds texture to give 3D effect appeal.
---
Original Press Release:
The Helix by Inkcups Offers New Features for Enhanced Printing Techniques
Inkcups' new rotary inkjet printer, The Helix, has made an immense impact in the industrial printing market since its release. This new and improved printer allows the user to print a clear, accurate, and contoured (if applicable) image in any direction and on any straight-walled or tapered cylinder. The Helix rotary inkjet printer achieves a superior balance between speed and image quality due to its patented Helix software which places 7 picoliter drops of ink precisely along the cylinder at extremely high speed.
Utilizing laser alignment technology, The Helix makes it easy to take advantage of production time. By displaying exactly where the substrate needs to be placed, the user can have a consistent print, every time.
To eliminate the dull, white, backside of an image, The Helix introduces Mirror UV inkjet Printing. Print your graphic on any transparent substrate and have the ability to see it from any angle. The mirror print allows you to promote your company not only on the outside of the glass, but now on the inside as well.
Although some images are multicolored and vibrant, they can often look boring laying on the substrate. To give your graphic some life, The Helix's Contour UV Inkjet Printing adds texture to give it an appealing, 3D effect. By applying more ink to the chosen areas, The Helix can extrude your graphic, giving it a one-of-a-kind look.
The Helix's Tone-on-Tone option makes it easy to add a subtle "pop" to the substrate. By using varnish, The Helix can add clear ink giving the image a shiny, yet elegant look to it. The Tone-on-Tone is a unique feature that will apply subtle imagery without taking away from the drinkware's overall design.
For more information on The Helix, visit: http://www.inkcups.com/equipment/industrial-uv-inkjet-printers/rotary-inkjet-printer/Default.aspx
Contact:
Stephen Chrisos
Inkcups Now
310 Andover Street
Danvers, MA, 01923
Phone: 978-646-8980
Email: stephenc@inkcups.com
More from Thermal & Heating Equipment