Rotary/Demotion Hammers offer vibration dampening features.
Press Release Summary: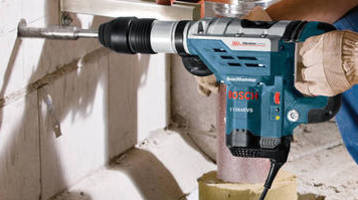 Both 11264EVS and 11265EVS 1 5/8 in. rotary hammers and 11321EVS 12 lb demolition hammer employ Vibration Control(TM) technology that reduces vibration at point of impact and increases impact energy. Also, shock-absorbent main handle features rubber damping elements to isolate user from vibration. Models 11264EVS/11265EVS deliver 8.1 lb-ft impact energy and have 170-340 rpm and 1,700-2,900 bpm operating range. Offering 9.6 lb-ft impact force, 11321EVS has 1,300-2,900 bpm operating range.
---
Original Press Release:

Bosch Introduces First Three Hammers in New Vibration Control(TM) Lineup



New hammers offer best-in-class vibration reduction AND power!

Mount Prospect, Ill., March 6, 2009 - Bosch Power Tools and Accessories has built a long-standing global reputation for innovation and leadership in the rotary hammer category. Bosch is building on that reputation with yet another innovation - the introduction of the company's new Vibration Control(TM) technology. The vibration dampening system will now be featured on Bosch's new 11264EVS and 11265EVS 1-5/8" Rotary Hammers and the 11321EVS 12-pound Demolition Hammer.

While competitor systems rely on elaborate shock absorbing systems and other added parts, Bosch's Vibration Control system utilizes two simple, common sense components to achieve the same - or better - results. The system starts with an optimized impact mechanism. A slightly longer air cushion between the piston and the striker pin significantly reduces vibration at the point of impact while increasing impact energy by about 10% at same time. The new design ultimately yields significantly faster drilling (+ 20%) in concrete. The second component of the system is a shock-absorbent main handle. Rubber damping elements at the top and bottom of the handle further isolate the user from vibration. The end result is greater productivity and all day comfort.

"The heart of the Vibration Control technology we're launching now is an idea we initially utilized on our popular JACK 35-pound breaker hammer, with proven results," says Mitch Burdick, Bosch's Hammer Category product manager. "JACK proved to users it was possible to reduce vibration and increase power at the same time, and these new hammers will show users just how far we've pushed the envelope since then."

11264EVS / 11265EVS ROTARY HAMMERS
The new 1-5/8" Vibration Control rotary hammers are identical except for their tool holders; the 11264EVS features an SDS-Max® holder, while the 11265EVS utilizes a spline holder. While the Vibration Control features reduce vibration by as much as 20 percent, both hammers draw an impressive 8.1 ft-lbs of impact energy out a sturdy 13 amp motor to deliver the best power-to-weight ratio in its class.

New for the 11264EVS specifically is Bosch's exclusive One-Hand(TM) SDS-Max holder. The one-handed, tool free system makes changing bits faster and easier than ever before. Both hammers feature Constant Response Circuitry to maintain speed under load and protect against overloads, Turbo(TM) Power to deliver 20 percent more power in hammer only mode and Vario-Lock(TM) Positioning that enables chisel tools to rotate and lock into 12 different positions.

Other innovative features include Bosch's Auto-Max(TM) variable speed dial, which ensures maximum speed every time the tool is turned on. The Service Minder(TM) light maximizes tool longevity by indicating when preventive maintenance is required, and Bosch's patented cord turret design minimizes cord wear. Both hammers deliver an operating range of 170-340 RPM and 1700-2900 BPM for terrific performance in a wide variety of applications.

11321EVS 12-POUND SDS-MAX DEMO HAMMER
In the case of the new 11321EVS Demolition Hammer, Bosch's Vibration Control system boasts a phenomenal 50 percent reduction in vibration along with an increase in impact energy of about 10%. In fact, the hammer's 9.6 ft-lbs of impact force delivers the fastest removal rate in the 12-pound demo hammer class, up to 40 percent faster in some cases.

Like the new 1-5/8" rotary hammers, the 11321EVS demo hammer includes a wealth of performance enhancing features - Constant Response Circuitry, Vario-Lock Positioning, Auto-Max variable speed dial to control the hammer's 1300-2900 BPM operating range, Service Minder light and patented cord turret design. The 11321EVS features the addition of a sturdy ergonomically designed auxiliary handle to help users maintain the best possible working posture, regardless of application.

All three of Bosch's new Vibration Control hammers come complete with sturdy carrying cases. The 11321EVS also includes a pointed SDS-Max chisel. The hammers debuted during World of Concrete 2009 in Las Vegas and will be available through authorized Bosch distributors nationwide this month. To find out more, users may visit www.boschtools.com or call 877-BOSCH-99.

About Bosch Power Tools and Accessories:
Bosch Power Tools and Accessories is one of the divisions within the $1 billion, 4,000 employee strong Robert Bosch Tool Corporation, which is the North American branch of the largest power tool and accessory manufacturer in the world, Robert Bosch GmbH. Bosch provides a complete line of corded and cordless power tools and accessories engineered to survive any jobsite and allow professionals to take control of their work. For more information, call toll free 877-BOSCH-99 (877-267-2499) or visit www.boschtools.com.

About Bosch Group:
The Bosch Group is a leading global supplier of technology and services. In the areas of automotive and industrial technology, consumer goods, and building technology, some 271,000 associates generated sales of 46.3 billion euros (over $63 billion) in fiscal 2007. The Bosch Group comprises Robert Bosch GmbH and its more than 300 subsidiaries and regional companies in roughly 50 countries. This worldwide development, manufacturing, and sales network is the foundation for further growth. Each year, Bosch spends more than 3 billion euros for research and development, and applies for over 3,000 patents worldwide. The company was set up in Stuttgart in 1886 by Robert Bosch (1861-1942) as "Workshop for Precision Mechanics and Electrical Engineering."

In North America, the Bosch Group manufactures and markets automotive original equipment and aftermarket products, industrial automation and mobile products, power tools and accessories, security technology, thermo-technology, packaging equipment and household appliances. Bosch employs approximately 25,000 associates in more than 70 locations throughout the U.S., Canada and Mexico, with reported sales of $9.5 billion in fiscal 2007. For more information on the company, visit www.boschusa.com.

More from Electronic Components & Devices