Rotary Broaching Tool Holders do not require centering.
Press Release Summary: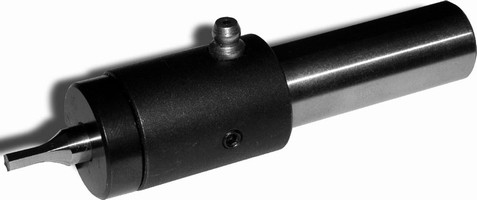 Available with .625 in., .750 in., 12 mm, or 22 mm shank, Adjustment Free Rotary Broaching Tool Holder is designed for Swiss type lathe and screw machines. Design lets operator use tool holder without need for centering. It also eliminates interference and clearance problems while facilitating access to grease fitting for maintenance. Product can be used for any type CNC, Swiss, or manual turning, milling, drilling, or screw machine.
---
Original Press Release:

Adjustment Free Rotary Broaching Tool Holders Now In-Stock



Slater Tools Inc. is announcing the increased availability of its new Adjustment Free Rotary Broaching Tool Holder. The company is now stocking four popular sizes of the tool; .625" shank, .750" shank, 12mm shank and 22mm shank. These sizes are now available for immediate delivery. The new tool holder was released in August 2006, and is designed for swiss type lathe and screw machines. Swiss type tools are increasingly popular due to their use in aerospace and medical applications, such as with orthopedic bone screws and custom fastener products. Slater's new adjustment free design allows the operator to use the tool holder without the need for centering. The new rotary broaching tool holder's sleek design is the smallest in the industry which eliminates interference and clearance problems, and provides easy access to the grease fitting for maintenance. The Adjustment Free Rotary Broaching Tool Holder is manufactured with the same quality and reliability as our current rotary broaching tool holders. There are thousands of Slater's rotary broaching tool holders in use throughout the world. Slater's new tool holder uses the standard 1.25" length rotary broaches. Stock of available standard broaches has also been increased. The Adjustment Free Rotary Broaching Tool Holder is used for any type CNC, swiss, or manual turning, milling, drilling or screw machine.

Rotary Broaching, also called hex broaching or wobble broaching, uses a precision tool to produce an internal form inside a pre-drilled hole. The result is a polygon form which matches the shape of the broach. For instance, a square broach measuring 5 mm, produces a square hole of the same size. Broaches are available from Slater Tools Inc. as squares, hexagons, splines, serrations and other polygon forms. Delivery times are the fastest in the industry. Rotary Broaching is also a popular money saving technique because forms can be created within seconds using the primary machine spindle without having to add secondary machining and operations for production. Visit us online at slatertools.com for broach selection, support and training. Also, view Slater's rotary broaching video which demonstrates the rotary broaching principle.

More information:
http://www.slatertools.com/adjustment_free_rotary_broach_toolholder.htm

Contact:
Jeff Tryles
Email: direct@slatertools.com
Slater Tools Inc.
44725 Trinity Drive
Clinton Township, MI 48038
www.slatertools.com
(586)465-5000 fax: (586)465-3030

More from Chemicals & Gases