Rotary Broaching Tool Holder accommodates diverse machine types.
Press Release Summary: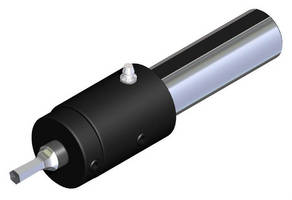 Available in several shank sizes, adjustment-free 3700 Series features bearing capacity capable of producing large forms. While most common forms made with rotary broaching tools are hexagon and square holes, 3700 series tool holder also accepts special Slater broaches that can be used to create double hex, double square, serration, spline, and other custom forms. Toolholder eliminates secondary operations, which conserves time and expense.
---
Original Press Release:

New Slater Tools Adjustment Free Rotary Broaching Tool Holder NOT just for Swiss Type Machines



The latest Slater Tools Rotary Broach Holder eliminates Secondary Operations and upgrades machine capacity to produce larger internal forms.

Clinton Township, MI -- Slater Tools 3700 Series Adjustment Free Rotary Broaching Tool Holder is the largest holder of its type produced by the company. Unlike the first two series of adjustment free holders which were produced for Swiss type machines, the 3700 series features a larger bearing capacity capable of producing larger forms. Rotary Broaching tools are popular in turning and milling machines for creating internal and external forms on the machine while eliminating secondary operations. The larger range of forms capable of being produced by this new tool holder will make it the most versatile of all of Slater's adjustment free models.

The most common forms made with rotary broaching tools are hexagon and square holes. The 3700 series tool holder also accepts special Slater broaches, which can be used to create double hex, double square, serration, spline and other custom forms. Slater Tool's sales staff is trained to help you determine if your part meets the tooth height and depth requirements needed to create such forms. Slater offers fast delivery of special rotary broaches. Triumph Gear Systems, Macomb Twp., MI, was one of the first cutting-edge companies to use the new tooling with a custom made form. "We liked the adjustment free feature of the tool holder, it saves time." said Triumph's Brett W. Cheney. "It also met our high standards by performing without failure after thousands of operations."

Part preparation for rotary broaching includes adding a chamfer to the pre-drilled hole, establishing the pre-drilled hole diameter, cutting speed and feed rate, and considering how to handle chips which can accumulate during the process. However, the value of using a rotary broaching tool holder is in the time and money savings during the operation. By eliminating secondary operations, time is saved when a part is not taken to another machine for another set-up and machining operation. Eliminating a second machine and tooling is often a significant money savings as well. Slater believes the renewed interest in consolidating machine resources and expanding the capabilities of existing machines will contribute to the popularity of the new tool holder. The 3700 series holder is available in several shank sizes.

Slater Tools Inc. rotary broaching and screw machine tools operate throughout the world on CNC, Swiss, mill, and screw machines. The design of our Swiss and standard type Slater broach holders and machine attachments have helped thousands of precision metalworking customers. Our complete line of products is designed to reduce cycle time or add value to precision machining operations. Multiple industries including plumbing, medical and aerospace rely on Slater Tools precision products.

Contact: Slater Tools Inc. (586)465-5000 www.slatertools.com or direct@slatertools.com

More from Construction Equipment and Supplies