Rotary Bearings suit precision positioning applications.
Press Release Summary: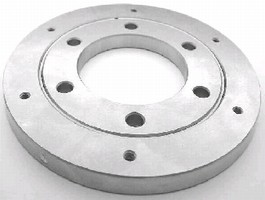 Available in sizes from 8.5-12.5 mm tall, FMB Series delivers radial and axial run-out from 10 µm down to 1 µm and wobble from 6 µrad down to 2 µrad. Units are constructed of PTFE-filled steel with plastic ball cage and precision steel balls. With ODs ranging from 120-350 mm and IDs ranging from 40-250 mm, bearings include 0.5 mm offset between inner and outer races and counter bored holes to enable mounting directly onto flat surfaces.
---
Original Press Release:

Low Profile Rotary Bearing is Ideal for Precision Positioning Applications



Fort Mill, SC, March 8, 2007 - PM Bearings and The Precision Alliance proudly introduce the ULTIMATE in low profile, high precision rotary bearings. The FMB Series is ideal for rotary positioning systems where both precision and height are critical.
The various bearings sizes are only 8.5 to 12.5mm tall yet deliver radial and axial run-out from 10µm down to 1µm and wobble from 6µrad down to 2µrad.

The FMB is constructed of high quality bearing steels, PTFE filled, plastic ball cage and super precision steel balls. The specially designed raceways increase load capacity and stiffness while guaranteeing high precision, long life, and a low coefficient of friction.

There are 9 standard sizes with OD's ranging from 120mm to 350mm and ID's ranging from 40mm to 250mm. Each size has different precision grades and preload classes. Additionally, for OEM applications custom sizes are available up to 500mm OD to exactly match the application.

The FMB Series is also very easy to apply. Most rotary bearings fit into a bore which must be very precise to avoid deforming the bearing and spoiling the precision. The FMB includes a 0.5mm offset between the inner and outer races and counter bored holes to enable mounting directly onto flat surfaces.

FMB flat mounted bearings are manufactured in two quality grades (N)ormal and (P)recision grade and are supplied by default with zero clearance.

FMB bearings are also supplied in two preload classes V0 (0.02C) and V1 (0.08C).
V0: for very smooth almost friction free operation
V1: the location requires high rigidity and is subjected to vibration or large overhung loads

For more information on the FMB Series Rotary bearings, contact The Precision Alliance at (803) 396-5544 or visit www.tpa-us.com/.

The Precision Alliance is a North American and European sales, marketing, and manufacturing alliance created to provide complete linear motion products to the automation industry and answer the ever-increasing demand for higher precision and lower costs. The Precision Alliance offers designers the widest variety of motion components and when desired, complete subassemblies at either end of the accuracy spectrum. The Precision Alliance is your single source for linear motion solutions.


More from Communication Systems & Equipment