Rope Hoist offers minimal maintenance, extended service life.
Press Release Summary: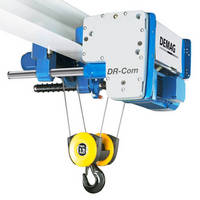 Available in 3 sizes and load capacities of 2–10 tons, Demag DR-Com rope hoists offer cross-travel speeds to 24 m/min and 4/1 reeving arrangement. Variants include EKDR-Com, compact unit with low-headroom design; low-headroom EZDR-Com double-rail crab; and FDR-Com foot-mounted hoist unit. These hoists may be used wherever materials or goods have to be lifted, transported, or positioned, and 2-ton model is available with FEM 4m classification.
---
Original Press Release:

Demag DR-Com Rope Hoist with Doubled Service Life



• Improved FEM classification

• Favourable maintenance costs over the entire life cycle

• Improved handling rates thanks to increased cross-travel speed



Wetter, Germany. The tried-and-tested Demag DR-Com rope hoist product range now offers users significant efficiency benefits with its increased FEM classification. The move up to the next-highest FEM group means that its rated service is doubled, while its maintenance requirement is cut. The 2-tonne model is now available with FEM 4m classification. A further improvement to the DR-Com enables higher handling rates to be achieved: the cross-travel speed has been increased to 24 m/min. By taking this step, Terex Material Handling has improved the life-cycle costs and the performance of its Demag DR-Com, which is available in three sizes and with load capacities of 2 to 10 tonnes and with a 4/1 reeving arrangement as standard.



Unchanged is the high versatility of the rope hoist, which is manufactured in three variants. As a compact unit with a low-headroom design, the EKDR-Com offers reduced approach dimensions for the best possible utilisation of the available production area. At the same time, the compact design provides for a low C dimension and an integrated mechanical derailment guard offers additional safety. The low-headroom EZDR-Com double-rail crab offers the best possible use of the available space. And the FDR-Com is a foot-mounted hoist unit that offers a variety of different mounting possibilities for stationary applications. The versatile DR-Com range can be used wherever materials or goods weighing up to 10 tonnes have to be lifted, transported or positioned.



Rugged design for many applications

Their low-vibration cylindrical-rotor motors and three-stage hoist gearboxes, which are lubricated for life, ensure that DR-Com units also operate under demanding ambient conditions. The rope guide is designed to protect the rope. In addition, DR-Com units allow for inclined pull up to 4 degrees without touching the rope guide. The hook limit positions are safely monitored by a precision geared limit switch. DR-Com units are fitted with a mechanical limit switch for overload protection as standard. As an option, they can be supplied with a strain gauge carrier link, which enables the load spectrum and, therefore, the elapsed duration of service to be determined and provides data for further evaluation.



Proven hardware

The universal travel wheels fitted to DR-Com cross-travel units facilitate low-wear and low-noise operation on sloping or parallel tracks. Guide rollers ensure that the travel unit is safely positioned on the runway. The cross-travel units can be adjusted to variable flange widths from 200 to 420 mm. The basic safety equipment of all variants also includes a rope lead-in guard on the bottom block. Furthermore, the ergonomic Demag DR-Com rope hoist design satisfies an important basic requirement for the safe operation of the rope hoist in every situation of an in-house material flow arrangement. 



Control to meet specific needs

The DR-Com rope hoist also offers flexibility in its controls. For all sizes, the owner can choose between a smart processor control system (CAN bus) or a conventional contactor control system. While the version with contactor controls facilitates two-stage cross-travel motions (6/24 m/min), a rope hoist operated with processor controls has an integrated frequency inverter for variable cross travel with speeds from 5 to 24 m/min.



The basic version is controlled by cable-connected control units. The DST control pendant is based on the tried-and-tested range for hoist units equipped with contactor controls and also allows additional control elements to be utilised. Besides its ergonomic design, the DSE variant for hoist units equipped with processor controls features transparent communications thanks to bi-directional data transfer. A display integrated into the DSE 10-R control pendant provides information on status data specific to the installation. The optionally available DRC radio transmitter also has an easily legible diagnostic interface.



Additional information



Demag DR rope hoists

Launched in 2006, DR-Com rope hoists are the favourably priced alternative to DR-Pro rope hoists, which are designed for more demanding operation and offer a wider range of variants. In addition, they can be supplied for load capacities up to 50 tonnes and for higher lifting and cross-travel speeds. Since it is now classified in a higher FEM group, the DR-Com range can be employed in a wider range of applications and owners can benefit from the longer service life offered by the rope hoists. Applications with very demanding service life requirements or additional options will, however, remain the domain of the DR-Pro range.



FEM classification

According to the (BGV) D8 regulations in Germany, rope and chain hoists as well as hoist units used on cranes are classified corresponding to their planned mode of operation in groups of mechanisms according to operating time and load spectra and dimensioned according to the resulting loads. FEM rule 9.755 (FEM = Fédération Européenne de la Manutention) specifies the calculation method and divides the theoretical duration of service of a hoist unit into eight classes, of which 1 Dm (100 hours) is the lowest and 5 m (12,500 hours) is the highest. The method used to calculate the service life is referred to as the FEM classification. The remaining safe working period of a hoist unit is determined as part of the regular maintenance work (the intervals for which also depend on the FEM classification of the hoist unit).



About Terex Material Handling

Terex Corporation is one of the world's leading suppliers of crane technology with Demag industrial cranes and crane components. The core competence of the Terex Material Handling business group lies in the development, design and production of technically sophisticated cranes, hoists and components and the provision of services for these products. The business group manufactures in 16 countries on five continents and is present in more than 60 countries, reaching customers in more than 100 countries.



Terex Corporation is a diversified global manufacturer engaged in the mechanical and plant engineering sector. A core activity of Terex Corporation is the provision of reliable, customer-driven solutions for many applications, including the construction, infrastructure, shipping, transportation, quarrying, mining, refining, energy, utility and manufacturing industries. Terex reports in five business segments: Aerial Work Platforms, Construction, Cranes, Material Handling & Port Solutions and Materials Processing. Terex Financial Services offers a wide range of products and services to assist in the acquisition of Terex equipment. Please visit our websites at www.demagcranes.de and www.terex.com for further information.



Contact for product and trade media

Christoph Kreutzenbeck

Phone:  +49 (0) 211 7102-3907

Email: christoph.kreutzenbeck@terex.com

More from Software