Roof Fastening System gets FM and Sarnafil approvals.
Press Release Summary: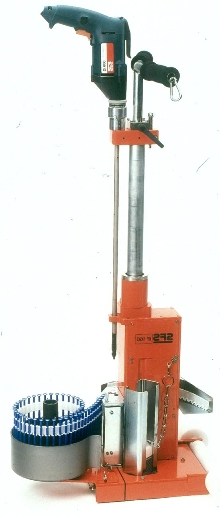 Isofast automated fastening system has obtained Factory Mutual and Sarnafil approval for enhanced wind uplift protection on Sarnafil S327 roof membranes. It uses IF160 setting machine and belted XPS fasteners and plates to secure Sarnafil S327 PVC membranes. Fasteners are #15, self-drilling units that exceed FM premium corrosion standards, while rectangular plates are barbed, 20-gauge galvanized aluminum.
---
Original Press Release:
Isofast(TM) System Approved For Sarnafil Roof Membranes

CLEVELAND (Nov. 9, 2001) - The SFS isofast automated fastening system has obtained Factory Mutual and Sarnafil approval for enhanced wind uplift protection on Sarnafil S327 roof membranes. SFS obtained wind-rating approvals of 1-60 at 18" O.C. and 1-90 at 12" O.C.

The FM-approved fastening system uses the isofast IF 160 setting machine and belted XPS fasteners and plates to secure the S327 membrane. The fasteners are #15, self-drilling fasteners that exceed FM premium corrosion standards. The rectangular plates are barbed, 20-gauge galvalume (galvanized aluminum). The IF1 60 setting machine is a stand-up tool that enables workers to attach membrane roofs three to five times faster than standard roofing installation tools and procedures, resulting in labor savings and bottom line cost reductions of approximately 30 percent per job. Additionally, because workers stand when using the machine, fatigue and ergonomic injuries associated with frequent bending and repetitive motions are reduced.

The high-strength, polyester-reinforced S327 PVC membrane is available in various thicknesses, and with a felt backing. Sarnafil also manufactures the EPA energy star rated S327 EnergySmartX membrane.

In North America, SFS manufactures fastening systems for metal buildings and commercial flat/low sloped roofs, and distributes fasteners and plates under its own name as well through systems manufacturers of membranes and insulation. The parent company, SFS AG, is an industrial conglomerate headquartered in Switzerland. It has over 3,000 employees worldwide.
###

A Subsidiary of SFS Industrie Holding AG Heerbrugg, Switzerland CH-9436

More from Machinery & Machining Tools