Roof Edge Railing System utilizes open-style fitting.
Press Release Summary: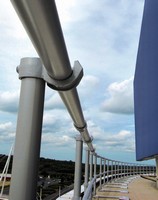 Freestanding, counterbalanced, KeeGuard® roof edge fall protection railing systems are available with open fitting that facilitates installation and provides design flexibility for circular roof configurations. Fitting, designed for use with 1½ in. schedule 40 standard pipe, is galvanized for corrosion resistance and allows guardrail to be placed into saddle of fitting instead of being fed through upright.
---
Original Press Release:


New Open-Style Fitting for KeeGuard® Roof Edge Railing Systems Reduces Installation Time and Allows for Greater Design Flexibility




(SEPTEMBER 2005) - Kee Industrial Products, Inc., Buffalo, New York announces the introduction of a new open fitting, model #135-8, to make the installation of its KeeGuard® roof edge fall protection railing systems faster and easier. The new fitting allows the guardrail to be placed into the saddle of the fitting instead of being fed through the upright. This saves time and labor costs, according to the company, while also providing design flexibility and heightened aesthetics for circular roof configurations. KeeGuard is a freestanding, counterbalanced modular guardrail system for flat and low-sloped roofs that installs without welding, drilling or penetrating the roof membrane. It is independently tested to meet or exceed OSHA Standard CFR 29 1910.23 and 1926.500, which require the presence of a barrier within six (6) feet of roof edges.

The new model #135-8 open fitting is designed for use with 1-1/2" schedule 40 standard pipe and, as part of the KeeGuard system, it is galvanized for corrosion resistance. Kee Industrial says that the new fitting also makes KeeGuard easier to disassemble and re-install as needed. The new fitting is now standard on all specified KeeGuard products including models with 90-degree or 11-degree raked uprights and configurations for skylights, and stair railings. The original crossover fitting is still available as a design preference, or to use when expanding current KeeGuard installations.

The company states that the new model #135-8 fitting for KeeGuard installs up to twice as fast as conventional systems and is part of four easy-to-assemble, pre-fabricated modular components utilizing Kee Klamp® slip-on, structural pipe fittings.

For free literature and additional information, contact Kee Industrial Products, Inc., 100 Stradtman Street, Buffalo, NY 14206. Toll-Free: 800-851-5181. Phone: 716-896-4949. Fax: 716-896-5696. E-Mail: info@keeguard.com. KeeGuard.com.

Please address reader service inquiries at the above address to:
April Stack, Marketing Coordinator, E-Mail: astack@keeklamp.com
(E-mail inquiries to fsanfillipo@keeklamp.com)


More from Fasteners & Hardware