Rolling Bearings enhance wind turbine rotor shaft performance.
Press Release Summary: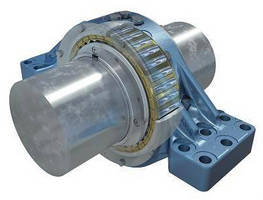 Combination of tapered roller (locating) and cylindrical roller (non-locating) bearings with angular adjustment capability enable narrow axial guidance of wind turbine rotor shaft, minimizing effects of vibration. Bearing housing design enables required angular adjustment to be made in order to compensate for any misalignment between bearing positions. Able to prevent high axial clearances, solution is designed for supporting main rotor shafts of wind turbines.
---
Original Press Release:
New Rolling Bearings Minimise Shaft Displacement and Vibration in Wind Turbine Rotor Shafts
A new bearing solution has been developed for supporting the main rotor shafts of wind turbines. The combination of tapered roller and cylindrical roller bearings with angular adjustment capability enable extremely narrow axial guidance of the wind turbine rotor shaft, which means that shaft displacement and the effects of vibration are significantly reduced. Schaeffler's new bearing comprises a combination of tapered roller and cylindrical rolling bearings with angular adjustment facility. The solution combines the excellent characteristics of tapered roller bearings as locating bearings and cylindrical roller bearings as non-locating bearings. In addition, the design of the bearing housing enables the required angular adjustment to be made in order to compensate for any misalignment between the bearing positions. Spherical roller bearings with high internal clearance Up to now, the main shafts of wind turbines are normally supported by two spherical roller bearings used as a combination of locating and non-locating bearings, with separate bearing housings. Spherical roller bearings are able to compensate for any angular misalignment of the shaft and support the high radial and axial loads that occur in wind turbines. However, the design of spherical roller bearings is such that relatively high radial internal clearance acts on the locating bearing side. This results in high axial internal clearance that is typically six to seven times higher than the radial internal clearance. If high axial loads occur at low speeds, during a sudden gust of wind for example, the spherical roller bearing moves in an axial direction. This leads to sliding movements between the rolling elements and raceway, which can damage the bearing over time. Axial displacement must occur via the bearing housing on the non-locating bearing side. This requires significant forces that increase the load on the bearing. Ideal locating and non-locating bearing solution for the shaft Schaeffler's new tapered roller and cylindrical bearing solution prevents high axial clearances that are found in spherical roller bearings. Double row tapered roller bearings in 'X' or 'O' arrangements are ideal locating bearings. The bearings can be set with very little clearance or even with preload. The contact angles of the rows of rolling elements in the bearing are optimally adjusted to match the load conditions. The distribution of loads on both rows of rolling elements is therefore more uniform. The bearing supports the high axial forces acting on the shaft without any lateral sliding movement. Damage to the rolling bearings is therefore prevented and at the same time, tighter guidance of the shaft and rotor is possible. In the second position, a double row cylindrical roller bearing is used as the optimum non-locating bearing of the main shaft. Here, the radial internal clearance is also reduced. The load distribution of the rows of cylindrical rollers is also more uniform. Axial length compensation no longer occurs via the bearing housing, but via the rolling elements within the bearing, which means the bearing is subject to significantly reduced loads. Compensation of angular misalignment An angular adjustment facility is also required for the bearing position of this bearing arrangement in order to compensate for shaft deflections. In a conventional solution, this is normally achieved by using a spherical roller bearing. If tapered roller bearings and cylindrical roller bearings are used, static angular misalignments are compensated for by the spherical surfaces between the outer ring and housing. Both bearing outer rings have a spherical outside surface that is located in the concave locating bore in the housing. These spherical surfaces slide on one another similar to spherical plain bearings. Coating the surfaces improves the sliding characteristics and prevents fretting corrosion. Calculations and simulations have been completed and comprehensive test stand runs have already started. Several renowned wind turbine manufacturers have already expressed interest in the new bearing solution. Schaeffler will begin volume production from Spring 2011. For more information, please call Schaeffler UK's Marketing Department on: 0121 313 5870 or email info.uk@schaeffler.com With a total of 65,000 employees at over 180 locations around the globe and group sales of 7.3 billion euros (fiscal year 2009), the Schaeffler Group is one of the world's leading rolling bearing manufacturers and automotive component suppliers. The corporate group includes the INA Group with headquarters in Herzogenaurach, the FAG Group based in Schweinfurt as well as the LuK Group, with headquarters in Bühl. Schaeffler (UK) Ltd, Forge Lane Minworth Sutton Coldfield West Midlands B76 1AP Tel: 0121 313 5870 Fax: 0121 351 7686 e-mail: info.uk@schaeffler.com www.schaeffler.co.uk
More from Electrical Equipment & Systems