Rollers and Cam Followers offer alternative to metal rollers.
Press Release Summary: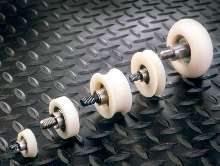 Self-Lubricating Power-Core curved, U- and V-shaped rollers will not wear out rail, and achieve noise reduction of 6-10 dBa over metal rollers. Precision machining provides minimal run-out, while tire material absorbs shock to provide smooth rolling motion and is resistant to chemicals and corrosion. Power-Core rollers operate in temperatures ranging from -60 to +140°F and are suitable for indoor and outdoor use.
---
Original Press Release:
Quiet, Self-Lubricating Intech Power-Core(TM) Rollers and Cam Followers Replace Metal, Do Not Wear Out Rail
Closter, NJ: Curved, "V", crown or "U" shaped guide rollers often utilized as lateral support for moving components in medical equipment, positioning tables, conveyors, palletizers, or other precision equipment, present unique challenges to conventional metal rollers and cam followers that are addressed with long-wearing, high load capable, Intech Power-Core(TM) rollers. One of the challenges presented by a shaped "non-flat" rail is the skidding action and the resulting sliding friction component that wears between the rail and the roller. In addition to increased wear, increased rolling force is required to overcome the friction--but in the process more noise is generated. Engineers typically reduce increased wear by applying grease to the rail. Lubrication however, presents a challenge to designers of medical, clean room or other equipment where the environment or product could become contaminated by the lubricant. While plastic rollers constructed of nylon, Delrin or polyurethane provide temporary relief, they often wear out quickly or develop flats, resulting in costly downtime. Non-lubricated, high performance Intech Power-Core curved, "U" or "V" shaped rollers are specifically engineered to replace metal rollers in demanding applications. Various parameters including static and dynamic load, rolling speed, roller size, temperature, etc. are analyzed by Intech engineers. These parameters serve as input data in an industry-unique, roller life calculation, developed with a leading university, which includes a flat development calculation which ultimately calculates the expected number of rolling cycles. The roller life calculation has been proven to be a reliable predictive tool providing safety and reliability assurance to many satisfied customers. Quiet-running Intech rollers achieve noise reduction of 6 to 10 dBa, which is a welcome benefit to both designers and users. Noise generated by metal rollers in a medical, clean room or on high speed equipment is undesirable at best. Intech Power-Core rollers are precision machined resulting in minimal run- out, since the tire material absorbs the shock while providing a smooth rolling motion, achieving noise reduction even at high linear speeds. The Intech tire material is resistant to most chemicals and corrosion and does not absorb moisture. When assembled with stainless steel bearings and shafts, Intech Power-Core rollers successfully replace stainless steel rollers in hostile environments where washdown, chemicals, or fluctuating temperatures are present. Power-Core rollers can operate in temperatures ranging from -60 to +140°F and are suitable for indoor and outdoor use. Intech plastic tires are installed on the roller bearing using thermal technology to create an inseparable bond. The plastic portion of the roller fully envelops the outer racer of the roller bearing, providing high capability to carry side loads. The tight fit between the bearing and tire remains intact even under fluctuating loads and temperatures. The combination of precision machining, thermal fit assembly, superior material properties, and engineering calculations determines the high quality performance and wear life expectation of Intech Power-Core rollers. Intech offers a standard line of rollers and cam followers, as well as engineering and design assistance, life calculations, and custom shapes and sizes to meet a customer's specific applications. For more information, contact Georg Bartosch, Intech, 250 Herbert Avenue, Closter, NJ 07624; (201) 767-8066; www.intechpower.com
More from Machinery & Machining Tools