Roller Drive has spring-loaded rotor locking break mechanism.
Press Release Summary: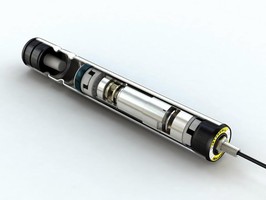 Designed specifically for decline conveyors with fail safe requirement, Model EC100B RollerDrive features spring loaded fail safe brake that prevents drifting on inclines while ensuring smooth operation and low noise emission. Mechanical rotor-locking break is spring-loaded and cycles with main power; it does not cycle with each start and stop of the conveyor. As long as the power bus is on, the magnetic force created by solenoid keeps rotor free.
---
Original Press Release:
Interroll's EC100B RollerDrive Features Spring Loaded Rotor Locking Break Mechanism That Prevents Drifting
Failsafe brake mechanism provides smooth operation, low noise emission, and an extended lifetime... WILMINGTON, N.C., (July 23, 2008) -- Specifically designed for decline conveyors with a fail safe requirement, Interroll Corp. has developed an EC100 RollerDrive that features a mechanical rotor locking break. Designated EC100B, the RollerDrive's spring loaded failsafe brake prevents drifting on inclines while ensuring smooth operation, low noise emission and an extended operating lifetime of the RollerDrive. "The EC100B's integral fail-safe mechanical brake has been specifically designed for decline conveyors and is the optimal choice for down spirals and straight decline conveyors," said Georg Malina, Interroll Global Product Manager, RollerDrive and DriveControl. "The EC100B RollerdDrive brake mechanisms not only eliminates drifting of the conveyor when the main power goes down, but also provides a smoother, quieter operation." The EC100B brake mechanism requires no special control, as two wires are simply attached to the main power bus. The new technology is comprised of a mechanical rotor-locking break, which is spring-loaded and does only cycle with main power. The brake does not cycle with each start and stop of the conveyor. As long as the power bus is on, the magnetic force created by the solenoid keeps the rotor free. During normal operation with the main power on, the zero motion hold (ZMH), an electronic servo brake, keeps the rotor of the motor locked. The combination of the mechanical brake and ZMH makes the EC100B a very reliable and easy to control fail safe brake RollerDrive. For more information about Interroll's EC100B RollerDrive brake mechanism, call 1-800-830-9680, fax 1-800-830-9679, or visit www.interroll.us. About Interroll Products developed by Interroll are deployed on a global scale - wherever goods have to be conveyed, stored or distributed. Committed to excellence, Interroll offers cutting-edge solutions spanning the entire value chain, for a diverse range of industries. Interroll endeavors to establish a leading position in selected product segments for internal unit load handling - worldwide. Established in 1959 and listed on the Swiss Stock Exchange SWX, the Interroll Group currently employs 1300 people at around 28 enterprises worldwide. Directed by a strategic holding company located in Sant'Antonino, Switzerland, the Group operates with three global business units. Within the components segment, "Interroll Drives & Rollers" focuses on supplying regional engineering companies and original equipment manufacturers. Within the area of modules and subsystems, "Interroll Dynamic Storage" and "Interroll Automation" have tailored their product portfolios to meet the requirements of global systems integrators, multinational corporations and end-users. Interroll develops all-embracing solutions in the field of food processing and distribution, airport technology, mail and parcel distribution, third-party logistics, automotive suppliers and pharmaceuticals.
More from Electrical Equipment & Systems