Roller Drive handles washdown applications.
Press Release Summary: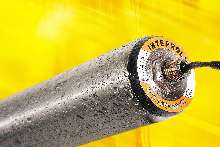 RollerDrive features sealed and IP67-rated dc drive elements for protection from water spray and other corrosive substances in food processing applications. It operates with up to 62 lb-in. starting torque, at speeds up to 200 fpm and meets load capacity up to 150 lb. Stainless steel shaft includes precision ball bearings. RollerDrive comes in 24 Vdc brush and brushless models and is suitable for intermittent operations in stop/start-up applications.
---
Original Press Release:

Interroll Introduces IP67 Washdown Rollerdrive for Food Applications


WILMINGTON, N .C. (February 10, 2003) - Designed to serve the food processing and other industries, Interroll Corp. has introduced the IP67 Washdown RollerDrive at the ProMat 2003 Show in Chicago, Illinois. The DC drive elements of the Washdown RollerDrive are sealed and rated to IP67 standards for superior protection from water spray and other corrosive elements. The 24VDC brush and brushless RollerDrive operates with up to 62 in-lbs of starting torque and is especially useful in intermittent operations for stop/start-up applications.

"The food processing industry has a real need for water resistant, non-corrosive, non-contaminative materials handling equipment in this classification," said RollerDrive Global Product Manager, Ken Bobick. "This sealed RollerDrive far exceeds washdown standards of typical chain or belt type rollers where mechanical parts are exposed to water, bacterial collection and corrosion."

The IP67 Washdown RollerDrive operates at speeds of up to 200 FPM. The RollerDrive meets load capacity up to 150lbs and may operate within ambient temperatures 40ºF to 120ºF. The shaft is manufactured of stainless steel for corrosion resistance and is equipped with precision ball bearings (6203). Each RollerDrive comes equipped with a 30" cable if needed, which terminates with a standard connector. Tubes are available in 1.90" diameter.

For more information about Interroll's IP67 Washdown RollerDrive, call 1-800-830-9680, or fax 910-799-9646 and visit www.interroll.com.

A world leader in materials handling technology, Interroll manufactures a broad range of high-quality innovative conveyor components. Products include a wide variety of rollers, DC-powered roller drives, and AC-powered belt drives. With locations in more than 20 countries worldwide, Interroll provides material handling solutions to numerous industries including: parcel handling, warehousing & distribution, food processing, packaging machinery, airport security, baggage handling, beverage, pharmaceutical, electronics, and automobile.


More from Packaging Products & Equipment