Roller Conveyor System provides abrasive blasting.
Press Release Summary: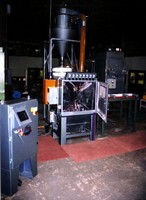 Designed for in-line surface preparation of long profiles, rod, bar, and tube materials, Model RC-800 can be used with variety of grit, shot, and bead media to produce different surface textures or finishes. Powered rubber rollers at entry and exit sides of blast cabinet grasp work and steadily feed it at controlled and adjustable speed. Inside finishing enclosure, up to 8 suction-blast guns are locked in fixed position on multi-adjustable brackets to provide uniform 360° coverage.
---
Original Press Release:

Abrasive Blasting Roller Conveyor System



March 6, 2006 - Saratoga Springs, NY - Guyson Corporation has introduced an automated blast machine for in-line surface preparation of long profiles, rod, bar and tube materials. The Model RC-800 roller conveyor blast system can be used with a wide variety of grit, shot and bead media to produce different surface textures or finishes.

Powered rubber rollers at the entry and exit sides of the blast cabinet are fitted with spring-loaded tension rollers to grasp the work and steadily feed it at controlled and adjustable speed. Inside the finishing enclosure, up to eight suction-blast guns are rigidly locked in fixed position on multi-adjustable brackets to provide uniform 360-degree coverage. The guns can, alternatively, be arranged to selectively target certain areas of the work, for instance, to prepare specific features for bonding or cementing operations.

The interior of the cabinet is made with vestibules on both sides that house the synchronized drive roller mechanism. These separate chambers are sealed by rubber flaps and brushes to isolate the drives from the abrasive blasting media, as well as to help prevent the escape of media or dust into the work environment and to reduce the operating noise level of theautomated blasting system.

The Model RC-800 can be supplied with external roller conveyors, either on the entry side to aid in feeding the work or at the exit to accumulate finished pieces. Maximum feed rates vary according to the material and the type of surface treatment. The new model machine is recommended for processing sections that are at least six feet in length. To blast shorter sections, special adaptations are required, with more powered rollers spaced closer together.

When the processing specifications require the highest degree of consistency in technical surface preparation, for instance, when a specific roughness must be produced prior to a critical coating, the Model RC-800 can be supplied with an enhanced media reclamation system. In addition to a high-performance cyclone separator, the precision reclaim may include a vibratory screen classifier to maintain the tightest possible control over shot or grit particle sizing. Numerous electronic sensor options are available for monitoring and control.

Abrasion resistance features of the system include bonded rubber lining of the blast cabinet and cyclone, cast urethane ducting to the media reclaimer, boron carbide-lined nozzles and an inner anti-frost window sealed in a quick-change frame.

Prospective users of the RC-800 blasting system are encouraged to submit sample components for free laboratory testing and application engineering evaluation at the machine builder's factory in northeastern New York State.

CONTACT FOR ADDITIONAL DATA:
J. C. Carson
518-587-7894, ext. 226
jccarson@guyson.com

More from Electrical Equipment & Systems