Roll-Out Shelving Racks help minimize handling time.
Press Release Summary: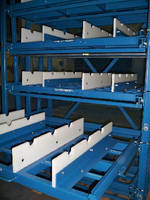 With custom fabricated cradling and blocking, Roll-Out Shelving Racks enable users to store and access odd-shaped and heavy items. Hardwood or UHMW cradling helps save space and simplify handling, whether storing cylinders, wheels, dies, or tooling. Cradling and blocking can be fixed or adjustable and will be customized to fit exact needs.
---
Original Press Release:

Customized Roll-Out Shelving Racks



Save Space and Reduce Handling Time with Custom Cradling on a Roll-Out Shelf

Seguin, Texas - - Proper Storage Systems today announced the expansion of its line of roll-out shelving racks to include customized on shelf cradling and blocking for easier and safer material handling. Now it is even easier to store and access odd shaped and heavy items with full extension roll-out shelving with custom fabricated cradling or blocking. Whether storing cylinders, wheels, dies or tooling, you can save space and simplify handling with hardwood or UHMW cradling. The cradling and blocking can be fixed or adjustable and will be custom fabricated to fit your exact needs. Our customer's report that the dramatic space savings and simplified handling procedures from implementing customized roll-out shelves with cradling results in fewer material handling injuries and damaged tools and materials.

About Proper Storage Systems

Proper Storage Systems designs and manufactures industrial roll-out shelving solutions that efficiently and safely store from 200 lbs. to 20,000 lbs. per shelf. With proprietary designs for both pneumatic and manual roll-out shelving, key products include mold & die racks, rack systems with built in hoists, cabinets and mobile racks. Proper Storage Systems has built a reputation for excellence over the last 25 years through custom designs and made to order fabrication based on the individual needs of each customer. Serving the majority of Fortune 500 companies with industrial manufacturing operations, key industries served include injection molding, aviation and aerospace, automotive, general manufacturing, metal fabrication and military and defense.
http://properstorage.com/items-stored/injection-mold-storage

For more information:

Mikal Harn

Proper Storage Systems

Tel: 800-516-0138

E-mail: sales@properstorage.com