Roll-Out Shelves safely store press brake dies.
Press Release Summary: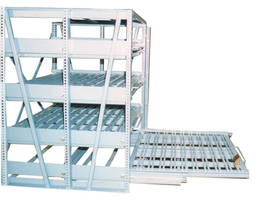 Available with depth of 30 in. and widths of 48 and 96 in., roll-out shelves come with 10 sets of adjustable blocking to accommodate any width dies. Adjustable on 1 in. centers, units have either 3 or 4 roll-out shelves with 7 or 11 in. of clear space between shelves. Each roll-out shelf has 1,500 lb capacity, and is equipped with automatic safety interlock that locks all other shelves in when one is rolled out.
---
Original Press Release:

Press Brake Die Storage Unit for Section Dies



Roll-Out Shelves Designed to Store Press Brake Dies

Proper Storage Systems, Inc. announces a new product to store Press Brake Dies.

These units give easy access to all dies because they are stored on a roll-out shelf. Each roll-out shelf has ten sets of adjustable blocking to accommodate any width dies. All roll-out shelves are 30" deep with widths of 48" and 96". The units have either 3 or 4 roll-out shelves with 7" or 11" of clear space between shelves. Shelves are adjustable on 1" centers. The units are 64" high. Each roll-out shelf has a 1,500 pound capacity. The unit is equipped with an automatic safety interlock that locks all other shelves in when one is rolled out. Prices for standard sizes are available upon request.

Company Information:

Founded in 1983, Proper Storage Systems is a manufacturer of racks, shelves, carts, storage and retrieval systems, etc. We specialize in Roll-Out Shelf Units that provide safe and easy accessibility to all items stored on the shelves.

Proper Storage Systems, Inc.
2200 Hwy 90 East
Seguin, TX 78155
Tel: 1-800-516-0138
Fax: 1-830-372-3515

Web-site www.properstorage.com
contact: Don Dykstra, Vice President
email: sales@properstorage.com

Direct link to this product on our website
http://properstorage.com/brake.html