Automated Guided Vehicle Systems
Roll Handling AGV is suited for paper industries.
Press Release Summary: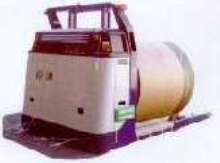 Automated Guided Vehicle (AGV) helps automate process of handling rolls; it handles loads of varying sizes and weights with minimal product damage. Roll handling vehicles are available in fork, probe, lift, and clamp types, all of which are offered with various forms of navigation including laser guidance. Vehicle also incorporates non-contact safety bumpers.
---
Original Press Release:
Roll Handling AGV

Companies in the paper industry now have another option for automating the process of handling rolls that is more cost effective and efficient than manual handling or even floor conveyors. Transbotics, a leading North American Automation Solutions Integrator (ASI), has introduced a newly designed roll handling AGV. This vehicle is capable of handling loads of varying sizes and weights with virtually no product damage. After several installations it became clear that product damage was reduced to over 10% and more than justified the investment in the vehicles. Transbotics offers the following types of roll handling vehicles: fork, probe, lift and clamp. Various forms of navigation can be chosen for the vehicles, but Transbotics believes laser guidance is the best option for most applications because of its flexibility and ease of installation. In addition, new technologies such as non-contact safety bumpers that can dynamically vary in the field of safety depending on the requirements of the system can increase safety as opposed to other methods. These vehicles have been successfully installed throughout North America in the paper and allied products industry. As a compliment to the system Transbotics has developed customizable software solutions that manages the flow of material and can be linked with all of your material handling software to optimize the process. For more information on how these automation solutions can benefit your organization contact Transbotics Corporation at (704) 362-1115 or info@transbotics.com.