Roll-Fed Labeler features Allen-Bradley controls.
Press Release Summary: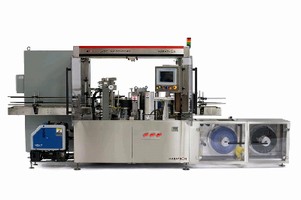 Suited for low- to mid-speed operations, Marathon® SLA handles containers from 8 oz to 3 liters at speeds of 50-250 containers/min. System features SMARTdrive(TM) 4-axis servomotor drive-train with automatic label registration and timing, and 10 in. color touchscreen operator interface with drop-down menus, graphics, and navigation bars. All electrical components reside in single cabinet, which can be mounted to side of labeler or placed remotely, up to 80 ft away.
---
Original Press Release:

B & H Labeling Systems Introduces New Marathon® SLA



May 6, 2008 - B & H Labeling Systems introduces Marathon® SLA, the latest addition to the successful Marathon series of roll-fed labelers. The Marathon SLA combines the field-proven Marathon SL technology with a complete Allen-Bradley drive-train and controls platform consisting of servo drives, servo motors, programmable logic controller (PLC) and human machine interface (HMI) as well as reconfigured electrical control cabinets. The new Marathon SLA is designed for easy operation and maintenance, and maximizes reliability and uptime. Ideal for low- to mid-speed operations, the base Marathon SLA handles containers from 8 oz. to 3 liters at speeds of 50 to 250 containers per minute and is capable of speeds up to 450 containers per minute with added options.

Featuring B & H's SMARTdrive(TM), a four-axis servomotor drive-train with automatic label registration and timing, Marathon SLA achieves extreme positional accuracy over the life of the machine. With four independent servomotors communicating on a high-speed digital bus to synchronize labeling operations, SMARTdrive eliminates the gears, belts and chains found in traditional labelers.

Designed for easy operation and maintenance as well as flexibility, B & H has added several enhancements to Marathon SLA beyond the Allen-Bradley drive-train and controls platform. All electrical components now reside in a single cabinet, which can be mounted to the side of the labeler or placed remotely, up to 80 feet (24 meters) away from the labeler, to accommodate tight floor space as well as wet or caustic environments. By removing the electrical components from the labeler's undercarriage, B & H has improved access to key machine components such as servo motors while also enhancing access to the electrical components.

To further ease operation, Marathon SLA features a ten-inch color touchscreen operator interface with intuitive drop-down menus, graphics and navigation bars. Security access levels for displays, data entry and system operations are configurable on a site-by-site basis by the system administrator.

Marathon SLA's advanced digital design speeds product changeovers. Key operating parameters are stored in a recipe database and downloaded for each container and label combination. Eliminating tedious and time consuming mechanical adjustments after replacing changeparts, Marathon SLA cuts changeover time to less than 15 minutes from one full production speed to the next - the fastest changeover in the industry.

The new Marathon SLA uses the same changeparts and key functional components as Marathon SL, which was introduced in 2004. For customers using both labelers, this commonality eliminates the need to purchase and inventory additional changeparts as well as spare parts associated with the cutter, glue system and vacuum drum.

Marathon SLA features swing open safety doors, which improve ergonomics and enhance machine access. All upper guarding safety doors are fully interlocked to assure safe operation of the labeler.

B & H also offers an enhanced vacuum system on Marathon SLA. Reconfigured valves and vacuum manifold achieve better vacuum control, allowing labels to travel more consistently through the labeler from the cutter to the container.

Compared to complex rotary machines, the Marathon SLA offers greatly simplified operation and maintenance. Fewer moving parts improve reliability, ease maintenance and increase uptime. More automation features and built-in 24/7 self-checking diagnostics and troubleshooting aids also enhance reliability and uptime. The key benefits to the customer will be higher machine productivity and low total cost of ownership over the life of the labeler.

About B & H Labeling Systems
Since introducing the first viable roll-fed labeling system over 35 years ago, B & H Labeling Systems has been known worldwide for innovation, dependability and responsive customer service. B & H maintains its role as a leading labeling solutions provider by successfully developing new labelers and applications for multiple industries. B & H maintains global representation to offer service and technical support to its worldwide customer base.

Sales Inquiries:
Marisa Jacobson
B & H Labeling Systems
P.O. Box 247, 3461 Roeding Rd.
Ceres, CA 95307 USA
Tel: 209 537 5785
Fax: 209 537 6854
Email: marketing@bhlabeling.com
URL: www.bhlabeling.com

More from Materials