Rohde & Schwarz & Digita Complete Multi-Million Euro DVB-T2 Terrestrial Transmission Network Upgrade in Finland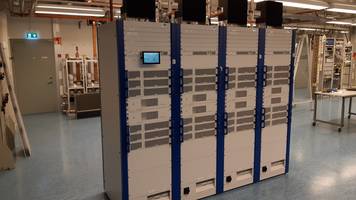 Supplying an 80+ network of DVB-T2 transmitters across Finland gives Rohde & Schwarz high market share for High and Medium power TV transmitters in the country. Simultaneous 5G Broadcast pilot demonstrates the power and potency of R&S High Power, High Tower transmitter technology.
Munich, May 14, 2020 — In Finland, Rohde & Schwarz has announced the successful completion of a DVB-T2 (HD) terrestrial TV transmitter network upgrade that spans the entire country. Working with Helsinki-based Digita, owner and operator of Finland's terrestrial network for nationwide TV and radio transmission services, Rohde & Schwarz has supplied more than 80 UHF HD transmitters across the country. The network of transmitters was installed and commissioned by Digita's professional services team. The first phase became operational 1st January this year, enabling Digita to expand their Pay-TV UHF terrestrial networks up to 90% coverage. In addition, Digita reports significant enhancements in power efficiency and redundancy concepts throughout the new HD TV network.
Timescales have been short throughout this project: there was just two months between Digita placing the order and delivery of the first transmitters. Network installation took six months to complete even though several logistical challenges were presented to Digita's engineers, mainly associated with the country's rugged landscape. Rohde & Schwarz has supplied a network comprising R&S THU9evo liquid-cooled UHF transmitters, R&S TMU9evo air-cooled UHF transmitters and TLU9 Low-power UHF transmitters and GapFiller systems.
In addition to the DVB-T2 upgrade, Rohde & Schwarz and Digita have initiated a 5G Broadcast pilot in the Greater Helsinki region. The pilot utilizes the same transmitter sites and the first phase of this pioneering project will be completed this summer.
"Over the last six months, we have rolled-out our nationwide DVB-T2 network and as well expanded our Pay-TV network in DTT on a fast schedule, utilizing Rohde & Schwarz's high-quality transmitters", commented Digita's SVP Broadcasting Pekka Mattila. "Our cooperation has been excellent and transmitter deliveries have been punctual, which is crucial in fast paced projects."
Digita owns and operates Finland's leading terrestrial network for nationwide TV and radio transmissions and is the country's largest independent owner of telecommunication masts. The company is a provider of digital software and services. Digita's services include telecommunication masts, data centre and IoT services, and broadcasting services for the future. Digita provides services to Finland's largest mobile phone operators, internet and media companies, infrastructure enterprises and real estate owners.
For Rohde & Schwarz, the project has been an interesting challenge for its technology supply chain. The demands of delivering a large network at such short timescales, combined with the technology support needed to start a 5G Broadcast pilot simultaneously are considerable. The company reports that both phases of the project proceeded without hitches.
"Digita is one of the most innovative network operators in Europe. We are driven as a market leading vendor to support our customers with the latest technology and we are very happy to provide Digita our most-efficient and future-proof transmitters. Our R&S team is looking forward to successfully concluding the project together with Digita," commented Manfred Reitmeier, Vice President Transmitter and Amplifier Systems:
Press Contacts:
PR agency: Scribe PR, Bob Charlton (phone: +44 20 7084 6335; email: bob@scribe-pr.com)
Europe (headquarters): Ciarán Doran (phone: +49 89 4129 16533; email: Ciaran.Doran.ext@rohde-schwarz.com)
North America: Maryam Larki Bavi (phone: +1 818-846-3600 x1411; email: Maryam.LarkiBavi@rsa.rohde-schwarz.com)
Asia Pacific: Wen Shi Tong (phone: +65 6 307-0029; email: press.apac@rohde-schwarz.com)
Contacts For Readers:
Customer Support Europe, Africa, Middle East: +49 89 4129 12345
customersupport@rohde-schwarz.com
Customer Support North America: +1 888 TEST RSA (+1 888 837 87 72)
customer.support@rsa.rohde-schwarz.com
Customer Support Latin America: +1 410 910 79 88
customersupport.la@rohde-schwarz.com
Customer Support Asia Pacific: +65 65 13 04 88
customersupport.asia@rohde-schwarz.com
Customer Support China: +86 800 810 8228 or +86 400 650 5896
customersupport.china@rohde-schwarz.com
About Rohde & Schwarz
Rohde & Schwarz is a leading supplier of solutions in the fields of test and measurement, broadcast and media, aerospace | defense | security and networks and cybersecurity. The technology group's innovative communications, information and security products help industry and government customers ensure a safer and connected world. On June 30, 2019, Rohde & Schwarz had 12,100 employees. The independent group achieved a net revenue of EUR 2.14 billion in the 2018/2019 fiscal year (July to June). The company is headquartered in Munich, Germany, and has subsidiaries in more than 70 countries, with regional hubs in Asia and America.
About Rohde & Schwarz Broadcast & Media
Rohde & Schwarz has been an innovator in broadcast and media for over 70 years. The Rohde & Schwarz product portfolio covers the entire signal processing chain for digital video and audio content – from ingest and playout to encoding and multiplexing, from contribution to satellite and IP networks to terrestrial transmission. It includes solutions for monitoring in the studio, as well as for monitoring streaming and broadcast services and entire broadcast networks. The T&M expert also offers a diverse range of instruments for testing end user equipment and infrastructure components in development, production and quality assurance. Rohde & Schwarz invests in an IP and software based future built with the blend of innovation, experience and stability that the company can offer.
R&S® is a registered trademark of Rohde & Schwarz GmbH & Co. KG.
All press releases, including photos for downloading, are available on the Internet at http://www.press.rohde-schwarz.com.
Media Contacts:
Digita Oy, Pekka Mattila, VP, Broadcasting, tel. +358 (0)40 545 1309, pekka.mattila(at)digita.fi
Digita owns and operates Finland's leading terrestrial network for nationwide TV and radio transmissions, and is the country's largest independent owner of telecommunication masts. The company is a provider of digital software and services. Digita's services include telecommunication masts, data centre and IoT services, and broadcasting services for the future. Digita provides services to Finland's largest mobile phone operators, internet and media companies, infrastructure enterprises and real estate owners. Digita employs 180 experts across Finland. www.digita.fi
More from Fasteners & Hardware