Rod and Wire are clad with precious metals.
Press Release Summary: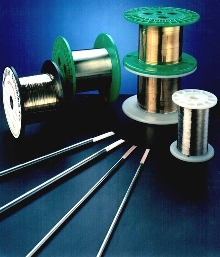 Precious Metal Clad Rod and Wire, with 2 to 5 layers of precious metals metallurgically bonded to copper or nickel-based alloy core, provide specific properties such as oxidation and corrosion resistance. Suitable for hermetic sealing, clad-to-core ratios range from 2% to 40%, depending upon materials and application. Available in sizes from .002 to 0.5 in. dia., cladding materials include gold, silver, platinum, palladium, niobium, and titanium.
---
Original Press Release:
Precious Metal Clad Rod and Wire Metallurgically Bonded for Specific Properties

Metallurgically bonded precious metal clad rod and wire that can feature specific properties such as oxidation and corrosion resistance are available from Anomet Products, Inc. of Shrewsbury, Massachusetts.

Anomet Precious Metal Clad Rod and Wire features two to five layers of precious metals metallurgically bonded to a copper or nickel-based alloy core to achieve specific properties. For example, platinum clad molybdenum wire can provide oxidation and corrosion resistance with a low coefficient of thermal expansion at up to 1200°C, and at lower temperatures where conductivity is important, titanium or nickel-clad copper is recommended.

Suitable for hermetic sealing, Anomet Precious Metal Clad Rod and Wire clad-to-core ratios can range from 2% to 40%, depending upon the materials and application; available in sizes from .002" to 0.5" dia. Cladding materials can include gold, silver, platinum, palladium, niobium, titanium, and others.

Anomet Precious Metal Clad Rod and Wire is priced from $ 0.05 to $ 500.00 per foot, depending upon configuration and quantity. Literature, samples, and price quotations are available upon request.

For more information contact:

Anomet Products, Inc.

Robert F. Gallant, Marketing

830 Boston Turnpike

Shrewsbury, MA 01545

(508) 842-3069 FAX (508) 842-0847

e-mail: info@anometproducts.com

www.anometproducts.com

More from Architectural & Civil Engineering Products