Rockwell's New GuardLink Safety System Reduces Machine Downtime
Press Release Summary: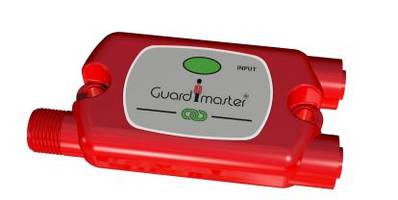 GuardLink Safety System Communication Protocol allows connection of the safety devices in series with diagnostic access to each device. The system integrates all safety relays and components for access status information. GuardLink sends diagnostics, remote reset and lock command with up to 32 devices per link. System offers communication across Connected Enterprise using Guardmaster network interface.
---
Original Press Release:
Safer, Smarter Operations with the New GuardLink Safety System
Connected technology reduces maintenance and increases reliability
MILWAUKEE, April 12, 2017 — Rockwell Automation introduces the Allen-Bradley Guardmaster GuardLink safety system, a new safety-based communications protocol that helps operators reduce and improve machine diagnostics and downtime while increasing productivity.
Traditionally, safety devices are wired to separate safety inputs, which requires significantly more wiring and introduces more potential fault points. When wired in this series connection, customers lose the ability to distinguish information from each device. With GuardLink, safety devices are easily connected in series while providing access to individual device diagnostics. This system provides safety, diagnostics, remote reset and lock command over a single four conductor cable with up to 32 devices per link. In addition, customers can greatly reduce installation cost, with up to 38 percent reduction in wiring, when using GuardLink.
The GuardLink technology seamlessly integrates with Allen-Bradley Guardmaster safety relays and components, allowing users to access status information throughout their entire safety system. The connection of safety devices with smart taps enabled by GuardLink technology and standard cabling to a Guardmaster safety relay allows greater visibility into the system, down to individual guard doors and E-stops.
"When an e-stop or interlock switch is operated, the individual safety signal is sent to the Guardmaster safety relays," said Thomas Helpenstein, safety product manager, Rockwell Automation. "That information is then communicated seamlessly across The Connected Enterprise via the Guardmaster network interface, making it easier and faster to diagnose and repair problems when compared to traditional wired systems."
The GuardLink safety system fully integrates with the Logix platform with predetermined tag names in the Rockwell Software Studio 5000 application. Its simplified design and reduction in wires allows for simple plug-and-play installation.
About Rockwell Automation
Rockwell Automation Inc. (NYSE: ROK), the world's largest company dedicated to industrial automation and information, makes its customers more productive and the world more sustainable. Headquartered in Milwaukee, Wis., Rockwell Automation employs approximately 22,000 people serving customers in more than 80 countries.
Media Contacts 
Todd Bissell 
Rockwell Automation 
978.446.3284 
tmbissel@ra.rockwell.com
Dana Bossen 
Padilla 
612.455.1751 
dana.bossen@padillaco.com
Contact This Company Download Spec Sheet
More from Controls & Controllers