Rockwell's New Controllers Increase Operator Efficiencies
Press Release Summary: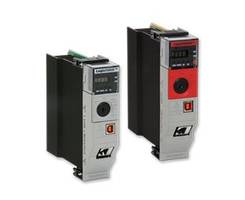 Rockwell's Allen-Bradley GuardLogix 5580 and Compact GuardLogix 5380 Controllers help engineers to improve safety system. The units allow users to meet data-intensive smart-manufacturing requirement. Units can be used for functions such as safe-stop, safe-speed, safe-position and safe-monitoring when used with Studio 5000 and Kinetix 5700 servo drive. The controllers meet SIL 2/PLd to SIL 3/PLe safety system levels and increase the productivity in safety control systems.
---
Original Press Release:
New Controllers Can Simplify Machines, Improve Safety Performance
Rockwell Automation controllers scale to specific machine safety requirements and support faster reaction times
MILWAUKEE, April 16, 2018 — Engineers can simplify their machine safety systems and improve safety performance using new controllers from Rockwell Automation. 

The Allen-Bradley GuardLogix 5580 and Compact GuardLogix 5380 controllers can be scaled from safety system levels SIL 2/PLd to SIL 3/PLe. This scalability can help engineers optimize a safety system design and potentially reduce its costs, while adhering to the latest machine safety regulations. The high-performance controllers also use increased processing power to achieve faster reaction times and shorter safe distances. This can help create smaller machines, save valuable floor space and increase operator efficiencies.

"Many engineers build safety systems to a higher safety level than an application requires," said Dave Sullivan, product manager, safety systems, Rockwell Automation. "Such systems end up having more components than they need, leading to increased complexity and costing more than they should. Our new controllers allow engineers to right-size a safety system and its cost to meet appropriate safety levels, without excess."

The new high-performing controllers can also help engineers consolidate the number of controllers they use in complex machines. Having a single high-performance controller for both standard and safety control can help improve productivity and reduce the system's cost, complexity and cabinet size.
Other benefits of the new controllers include:

Greater Communications Capacity: Embedded gigabit Ethernet on the GuardLogix 5580 and Compact GuardLogix 5380 controllers provides greater communications capacity to support the growing number of smart devices. This can help engineers meet data-intensive smart-manufacturing goals without adding extra hardware. It also can help future proof machines for end users that may someday need to collect and share more data.
 
More Productive Machines: The controllers, when used with the Studio 5000 integrated development environment and Kinetix 5700 servo drive, support new safe-stop, safe-speed, safe-position and other safe-monitoring functions. These safety functions can create more flexibility in safety system operations, for example, slowing down a machine instead of stopping it when a worker approaches. This can improve machine productivity while still achieving a desired level of safety. These new functions are implemented using built-in safety instructions available in the Studio 5000 software.
Engineers can also use the safety functions to support applications like collaborative robots. If a human comes too close to the robot, the system can detect their presence and either slow down or stop the robot's motion. 
The GuardLogix 5580 and Compact GuardLogix 5380 controllers are TÜV certified for functional safety.

About Rockwell Automation
Rockwell Automation Inc. (NYSE: ROK), the world's largest company dedicated to industrial automation and information, makes its customers more productive and the world more sustainable. Headquartered in Milwaukee, Wis., Rockwell Automation employs approximately 22,000 people serving customers in more than 80 countries.
Media Contacts
Paul Whitney
Rockwell Automation
414.382.3696
pwwhitney@ra.rockwell.com

Keegan Leddy
Padilla
612.455.1941
keegan.leddy@padillaco.com
Contact This Company Download Spec Sheet
More from Controls & Controllers