Rocker Switch/Circuit Breaker features overload protection.
Press Release Summary: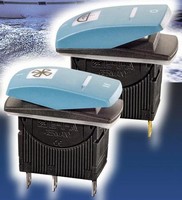 Certified to IP66 specifications, 3131 Rocker Switch/Circuit Breaker comes in various configurations with choice of actuator types, symbols, and lighting styles. Combination soft surface rocker switch and thermal circuit breaker comes in current ratings from 0.1-20 A, with voltage ratings of 250 Vac and 32 Vdc. Circuit breaker interrupt capacity is 3,500 A at 250 Vac and 2,000 A at 32 Vdc. Rated for 20 A max current, 3-position switch without overload protection is also available.
---
Original Press Release:

E-T-A Introduces Soft-Surface Rocker Switch/Circuit Breaker with Overload Protection



Stylish Performance with a Broad Range of Configurations

Chicago IL, October 11, 2006 - E-T-A Circuit Breakers announces the new 3131 Rocker Switch/Circuit Breaker, a stylish combination of high performance switch and thermal circuit breaker that is certified to IP66 specifications, making it an excellent choice for extreme environmental conditions such as marine, medical, electrical machinery and power tool applications.

The 3131 Switch's soft surface rocker guarantees smooth, gentle operation. A broad range of configurations, including numerous actuator types, symbols and lighting styles ensure maximum flexibility for countless applications.

Internal overload protection eliminates separate fuse holders and breakers, saving space and significantly reducing wiring and assembly time. A three-position switch without overload protection is also available.

Specifications
E-T-A's 3131 Rocker Switch/Circuit Breakers are available in current ratings from 0.1A to 20A with voltage ratings of 250Vac and 32Vdc. Circuit breaker interrupt capacity is 3500A at 250Vac and 2000A at 32Vdc, dielectric strength 1500Vac, and insulation resistance 100MOhm. It withstands 25g shock (11ms), 5g vibration (57-500Hz), corrosion (5% salt mist for 96 hours) and humidity (240 hours at 95% RH). The three-position switch is rated for 20A maximum current and will be available with optional illumination. Integrated panel seal and sealed components are certified to IP66 protection in the operating area and IP00 in the terminal area.

Price and Availability
E-T-A's 3131 Rocker Switch/Circuit Breaker is available from stock and is priced around $7.00 in volume. For more information on the 3131 or any of E-T-A's broad selection circuit breakers, call E-T-A at 1-800-462-9979 or visit www.E-T-A.com.

About E-T-A
E-T-A Circuit Breakers is a world leading manufacturer of circuit breakers and is a single-source supplier for the most circuit protection technologies: thermal, thermal-magnetic, magnetic and high performance. E-T-A circuit breakers are available in more than 150 models and 350,000 different configurations. E-T-A is also a leading manufacturer of control and monitoring products, and solid state remote power controllers (SSRPCs). All E-T-A products are RoHS compliant. With North American headquarters in Chicago, the company serves industrial OEMs and end-users.

Marketing Contact:
Ellen Raab
Advertising & Promotions Manager
847-827-7600
ellen.raab@e-t-a.com

More from Architectural & Civil Engineering Products