Robotic Unwrapper removes stretch wrap from pallet loads.
Press Release Summary: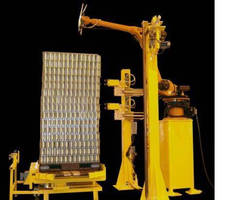 Robotic Unwrapper unwraps stretch-wrapped loads before depalletizing. Robot guides focused stream of heated air to assure correct distance and speed is achieved to weaken molecular bond of stretch wrap, causing it to part. Once wrap is parted, end-of-arm-tooling clamps wrap and places it between set of rollers, which then pinch wrap, compressing it, and as pallet rotates, continues to collect waste wrap and feed it to waste bin or vacuum takeaway system.
---
Original Press Release:
FleetwoodGoldcoWyard Introduces New Robotic Unwrapper
ROMEOVILLE, Ill. - Oct. 9, 2009 - FleetwoodGoldcoWyard, a leading supplier of advanced conveyance technology and product handling equipment, is pleased to introduce its new Robotic Unwrapper. The Robotic Unwrapper removes stretch wrap material from a pallet load prior to depalletizing. The system has the capability of unwrapping virtually any stretch-wrapped load, including glass, plastic bottles and cans as well as shrink-wrapped cardboard boxes. The robot removes the stretch wrap by applying a focused heat-source to the stretch wrap material on the load. The stream of heated air is directed at the stretch-wrapped load and guided by the robot to assure the correct distance and speed is achieved to weaken the molecular bond of the stretch wrap, causing it to part. A fixed vacuum arm holds one end of the parted wrap as the robot-guided heat gun completely parts the wrap. Once the wrap is parted, the end-of-arm-tooling on the robot clamps the wrap being held by the fixed vacuum arm and places it between a set of rollers. The rollers pinch the wrap, compressing it, and as the pallet rotates, they continue to collect the waste wrap and feed it into the customer's supplied waste bin or vacuum takeaway system. The Robotic Unwrapper eliminates the need for an operator to manually cut stretch wrap, unwrap loads and collect and dispose of removed wrap. The Robotic Unwrapper utilizes a very limited amount of floor space and is easier to maintain due to fewer moving parts. Because of the robot's flexibility and capability, it is able to handle additional over-wrap at the top of the load. ABOUT BARRY-WEHMILLER
Barry-Wehmiller Companies, Inc. is a diversified global supplier of engineering consulting and manufacturing technology solutions in packaging, corrugating, and paper converting across a broad spectrum of industries. Barry-Wehmiller's balanced approach to the market is made possible through nine interactive divisions: Accraply, Inc., a leading manufacturer of automatic labeling and label converting and finishing systems; Barry-Wehmiller Design Group, Inc., a premier supplier of manufacturing automation, facility design, and other engineering consulting services; Barry-Wehmiller International Resources (BWIR), a global provider of business and technology solutions to the mid-market manufacturing domain; FleetwoodGoldcoWyard, Inc., a leading producer and supplier of automated can end and product handling equipment, advanced conveyance technology, palletizers, depalletizers, and process equipment; HayssenSandiacre, a form/fill/seal technologies and services leader for more than 100 years; MarquipWardUnited, Inc., a leading manufacturer of equipment for the corrugated and folded carton industries; Paper Converting Machine Company (PCMC), providing converting, printing, and packaging technologies for the tissue, nonwovens, and flexible packaging industries since 1919; PneumaticScaleAngelus, a global provider for filling, capping, can seaming, labeling, and centrifugation; and Thiele Technologies, Inc., a leading producer of placing, feeding, bagging, cartoning, case packing, and palletizing equipment. In fiscal year 2008, a strategic combination of organic and acquisition growth allowed Barry-Wehmiller to reach a new milestone, with annual revenues surpassing $1.1 billion for the first time in the company's 123-year history. For additional information, please contact:
Greg Myers
Technical Materials & Marketing Leader
(970) 663-4770
More from Agricultural & Farming Products