Robotic Titration System conducts Karl Fischer moisture assays.
Press Release Summary: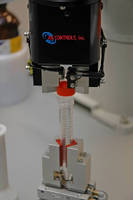 Integrating industrial-grade robot, Tix System is validated for use in lyophilization cycle development, tech transfer between various manufacturing sites, and manufacturing discrepancy investigations. Automated system rids operators of tedious task of uncapping, capping, weighing, and pouring samples into cell of titrator, saving both time and labor.
---
Original Press Release:

AB Controls, Inc. Announces New Fully Automated Robotic Titration (Tix) System



(IRVINE, California) - AB Controls, Inc. (www.abcontrols.com), the premier provider of laboratory automation solutions announces that the new Tix system will offer a fully automated robotic system for conducting Karl Fischer moisture assay. The Tix system is validated for use in lyophilization cycle development, tech transfer between various manufacturing sites, and manufacturing discrepancy investigations.

Conventional Karl Fischer titration is not considered a "high throughput" assay and current Karl Fisher Titrators require significant manual intervention from the analyst. This presents a problem when analyzing a large number of samples in a short amount of time. The Tix system, which rids the operators of the tedious task of uncapping, capping, weighing and pouring samples into the cell of the titrator, is a very cost effective tool for saving both time and labor. The efficiency of the process can be viewed at the following link: www.youtube.com/watch?v=2j4Bjc3NjIE.

According to Mike Nariman, a Senior Systems Architect at AB Controls, "the Tix system integrates an industrial grade robot into a platform ¼ the size of similar systems with 30% more capacity that uses fully integrated sensors." He then adds: "The beauty of it is that this platform can be used to automate many other processes. Our Focus software allows the scheduling of tasks and batches to be done with ease."

Mike Nariman, a Senior Systems Architect at AB Controls coauthored an article in the Pharmaceutical Technology magazine with Dr. Philippe Lam of Genetech who is a user of the system. The article is titled: "A Robust, Automated Karl Fischer Titration System." AB controls, Inc. (www.abcontrols.com) has also worked with Pfizer, Merck, Amgen, and GlaxoSmithKline. AB Controls, Inc. is continually working to apply the Tix platform to integrate robotic operations into other processes.

AB Controls, Inc. (www.abcontrols.com), established in 1997, provides Turnkey automation solutions to a wide range of industries, particularly biotech and pharmaceutical, with expertise that range from liquid handling to labware handling and analytical instrument interfacing. Located in the technology hub of Irvine, California, their expertise in laboratory automation, automated test equipment, robotic arm integration, and systems integration is world-renowned.

For more information about this topic, or to schedule an interview with Senior Systems Architect Mike Nariman, please contact Michael Keating at the below information:


More from Packaging Products & Equipment