Robotic Pallet Cell integrates dispenser and conveyor.
Press Release Summary: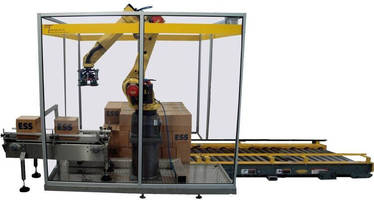 Able to palletize 25-30 RSC cases/min, robotic pallet cell incorporates FANUC robot, with vacuum-, gripper-, or hybrid-style end-of-arm-tooling; automatic pallet dispenser; and flow-through conveyor, all in 19 x 8 ft space. It can be configured to allow multiple zones and full pallet discharge can be in-line or 90°. All standard pallet sizes are accommodated and dozens of preprogrammed pallet patterns can be stored. System changeover for multiple case sizes takes 15-20 min.
---
Original Press Release:

New High Speed Robotic Pallet Cell Integrates Pallet Dispenser and Flow-Through Conveyor for Very Small Footprint



April 2009, Blacksburg, VA - ESS Technologies, Inc., has created a complete system for high speed palletizing of RSC cases in a very small footprint. Able to palletize 25-30 cases per minute, the robotic pallet cell incorporates a FANUC robot with ESS-designed end-of-arm tooling (EOAT) and an automatic pallet dispenser with flow-through conveyor. Empty pallets are automatically fed into the robotic cell and full pallets are automatically discharged out of the cell. A range of FANUC robot models can be specified to meet most any payload and reach requirement. The system is ideal for applications that require high speed but have limited available floor space.

By treating the pallet dispenser and flow-through conveyor as part of the overall robotic cell, ESS engineers created the smallest fully automated robotic palletizing cell available to pharmaceutical, medical device, cosmetics and consumer goods industries. The system footprint requires less than 19' L x 8' W and can be configured to allow multiple zones for loading pallets into the pallet dispenser. Full pallet discharge may be in-line or 90 degrees. The complete system includes a FANUC robot, ESS-designed EOAT, controls, guarding, case infeed conveyor, pallet dispenser, and pallet flow through-conveyor. The total system cost is significantly reduced compared to systems that require separate integration of all the components.

The high speed palletizing cell accommodates all standard pallet sizes. RSC cases enter the cell via the infeed conveyor while the pallet dispenser and driven roller conveyors place an empty pallet in the required position. A FANUC robot with vacuum-style, gripper-style or hybrid vacuum/gripper-style EOAT picks cases from the infeed conveyor and places them in the pre-programmed pallet pattern. Depending on the cases size, the EOAT may be designed to pick multiple cases with each cycle. The space-saving system does not require excessive case accumulation to maintain palletizing speeds of up to 30 cases per minute, eliminating the need for accumulation conveyors and further reducing cost and required floor space. Complete system changeover for multiple cases sizes can be done in 15-20 minutes typically. The robotic EOAT has "quick release" connections and takes only two minutes to replace. The robotic programming can store dozens of pre-programmed pallet patterns that can be called easily via the HMI.

About ESS Technologies, Inc.

ESS Technologies, Inc., founded in 1993, specializes in complete packaging line design, manufacture, and integration. Our product expertise includes monoblock fillers/cappers, robotic palletizing systems, horizontal/vertical cartoners, horizontal/vertical case packers, tube fillers, overwrappers, custom designed solutions, and integrated robotics. Engineered for reliability and efficiency, ESS Technologies' innovative solutions offer you tomorrow's packaging technology today.

Contact Information

Kim Norris, ESS Technologies, Inc.

3160 State Street, Blacksburg, VA 24060

(540) 961-5716, [email protected]