Robotic Loading System integrates with tube filler/closer.
Press Release Summary: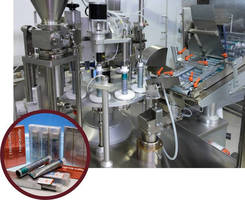 TaskMate(TM), designed to meet cGMP standards, incorporates FANUC multi-axis robot and end-of-arm tooling (EOAT) to load infeed of tube fillers/closers. Incorporated with empty tube case accumulation system, robotic loader allows tube filling system to operate unattended for extended production runs. Other components include Allen Bradley PLC, touchscreen display, and interlocked Lexan guarding. EOAT may be vacuum-style, gripper-style, or combination thereof.
---
Original Press Release:

New Robotic Infeed Option Creates High Speed Tube Filling/Closing System



March 2009, Blacksburg, VA - ESS Technologies, Inc. has designed a new robotic loading system for machine infeeds that integrates with their Bergami Model TF 100 Automatic Tube Filler/Closer (or similar tube fillers) to create a complete high-performance system. The TaskMate(TM) Robotic Loading System incorporates a FANUC robot and ESS-designed end-of-arm tooling (EOAT) to load the infeed of the Model TF 100, which automatically fills and closes up to 100 metal, plastic or polyfoil tubes per minute.

Robotic infeed systems offer a number of advantages over standard cassette or magazine style infeeds: They have the speed to keep pace with the infeed requirements of high speed tube fillers, allowing the TF 100 to run at maximum production levels. Multi-axis robots fitted with custom-designed EOAT provide the dexterity required to prevent damage to the tubes or jams from occurring at the infeed, reducing scrap and increasing machine up time. Incorporated with an empty tube case accumulation system, the robotic loader allows the tube filling system to operate unattended for long production runs. This greatly reduces overhead by allowing companies to reassign valuable human resources or share them with other applications.

Ideal for pharmaceuticals and cosmetics, both the robotic system and the Model TF 100 Tube Filler/Closer are designed to meet cGMP standards and may be installed in sterile rooms using a clean room robot option. The robotic EOAT uses quick-change connections and can be replaced in a matter of minutes with no tools. The TF 100 Tube Filler/Closer also features fast, tool-less changeovers, making the system ideal for packaging multiple SKUs on one packaging line.

The TaskMate(TM) robotic loading system includes a FANUC multi-axis robot with base, one complete EOAT, an Allen Bradley PLC and touch screen display, controls, programming, and interlocked Lexan guarding. Speed and payload capacity vary depending on the model of FANUC robot specified. EOAT may be vacuum-style, gripper-style, or a combination of the two, depending on the requirements of the application. System options include vision inspection systems with reject, line tracking, plug-and-play features, clean class robot options and light curtains.

The TF 100 has a small footprint, and the stainless steel frame and control panel provide easy cleaning and maintenance. Moving mechanical parts are based on self-lubricated components, while a user-friendly touch screen display allows the machine operator to adjust performance and maintain operational logs. The TF 100 features a 12-position turntable with bottom-up filling controls to raise and lower the tube as required by the product characteristics. Nozzles may be shut-off, blow-off, or combination types. Several tube closing methods are available including fold, double fold or saddle fold (metal tubes) and hot jaws or hot air sealing (plastic tubes).

ESS Technologies, Inc. is a FANUC Robotics authorized System Integrator and the Strategic Partner for pharmaceutical and medical device applications. As such, ESS handles all robotic programming, system training, integration and EOAT design. ESS and FANUC share a commitment to quality in every robot or packaging machine we build. FANUC robots are the most reliable in the world, with 200,000 installations worldwide. ESS and FANUC's technically competent partnership provides the pharmaceutical, cosmetics, and consumer goods industries with innovative solutions for robotic packaging systems.

About ESS Technologies, Inc.
ESS Technologies, Inc., founded in 1993, specializes in complete packaging line design, equipment manufacturing, and integration. Our expertise includes filling/capping equipment, robotic palletizing systems, horizontal/vertical cartoners, horizontal/vertical case packers, tube fillers, overwrappers, custom designed solutions for medical device assembly and pharmaceutical packaging, and integrated robotics. ESS Technologies, Inc. is a U.S. distributor of Bergami packaging machinery as well as a FANUC Robotics authorized system integrator and strategic partner for the secondary packaging of pharmaceuticals and cosmetics. Engineered for reliability and efficiency, ESS Technologies' innovative solutions offer you tomorrow's packaging technology today.