Robotic Cutter/Scriber processes beams, channels, and plates.
Press Release Summary: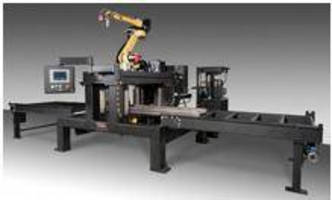 Built to accommodate structural steel industry needs, Robotic Beam Cutting and Scribing System automatically generates tool paths from CIS/2 part files for cuts, copes, holes, slots, notches, cutouts, and assembly markings on beams up to 40 ft long, 4-44 in. wide, and 4-18 in. high. Servo-Robot laser vision, FANUC ARC Mate® 6-axis robot arm, and StruCIM® 3D simulation software promote accurate sensing of beam variations, optimized robotic cutting/scribing, and reduced prints/paperwork.
---
Original Press Release:

Lincoln Electric Automation Introduces Robotic Beam Cutting and Scribing System



System Combines the Newest Innovations to Cut, Scribe and Process Angle, Beams, Channels and Plates

Robotic Beam Cutting & Scribing System
Cleveland - Lincoln Electric Automation introduces a Robotic Beam Cutting and Scribing System for the structural steel industry. The latest addition to the company's custom robotic solutions product line automatically generates tool paths from CIS/2 part files for cuts, copes, holes, slots, notches, cutouts and assembly markings on beams up to 40 foot long, 4 to 44 inches wide and 4 to 18 inches in height.

The latest Servo-Robot laser vision, FANUC ARC Mate® 6-axis robot arm and StruCIM® 3D simulation software technologies are incorporated into the new system, resulting in accurate sensing of beam variations, higher quality robotic cutting and scribing, and a reduction of prints and paperwork on the assembly and manufacturing floor.

The innovative StruCIM® software raises the efficiency and flexibility of the tool path generation to a new level. Operators can load CIS/2 part files (SD/S, StruCAD, Tekla or others) to the interface and the code generation automatically begins; no manual programming is needed. The resulting code allows the robot to cut lengths, copes, holes, slots, notches, cutouts, and scribe sub-material markings for assembly.

Lincoln Electric Automation engineers can customize and build a system to meet specific customer requirements and specifications. System layouts are optimized to provide cost-effective solutions that minimize the floor space requirements.

Demonstrations of Lincoln Electric structural steel cutting, scribing and welding solutions can be scheduled. Lincoln Electric Automation will be hosting tours, presentations and demonstrations on September 24, 2010 as a part of the AISC SteelDay 2010. Please contact Deanna Postlethwaite, Lincoln Electric Automation Marketing Manager at 216-383-2045 for more details.

For more information on structural steel cutting, scribing and welding systems, please contact: The Lincoln Electric Company - Automation Division, 22221 St. Clair Avenue, Cleveland, OH 44117-2522, via phone at (216) 383-2667 or e-mail at automation@lincolnelectric.com. For more information on the web, visit lincolnelectric.com/automated-solutions.

The Lincoln Electric Company, headquartered in Cleveland, Ohio, is the world leader in the design, development and manufacture of arc welding products, robotic arc welding systems, fume extraction equipment and plasma and oxyfuel cutting equipment. The company holds a leading global position in the brazing and soldering alloys market.

Media Contacts:
Kate Eidam - keidam@fallscommunications.com or 216.472.2390
Becky Casto - bcasto@fallscommunications.com or 216.472.2391