Robotic Basket Loading/Unloading System allows the operators to access the status.
Press Release Summary: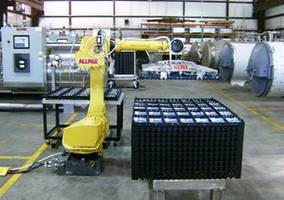 ProMach Robotic Basket Loading/Unloading System for handling pouches, bowls, and cartons are enhanced with AllTrax basket tracking system. These systems are suitable for automated retort rooms to load, unload, stack and de-stack containers and trays. AllTrax system automatically alerts operators when the product does not follow the path. The robotic systems are protected with password to prevent unauthorized overrides and enable customers to handle 20 packages per minute.
---
Original Press Release:
Allpax Integrates Robotic Basket Loading/Unloading with Basket Tracking to Lower the Risk of Recall
For the new generation of packaging – pouches, bowls, and cartons – robotic solutions in the retort room promote greater flexibility and lower capital costs.
Allpax, a product brand of ProMach, has expanded the capabilities of robots for handling pouches, bowls, and cartons in retort automation through integration with the company's AllTrax basket tracking system. AllTrax lowers the risk of unsterilized or incorrectly sterilized product leaving the retort room. Allpax has also improved the productivity of robotic systems through quick changeover and product carrier flexibility, enabling the plant to run multiple container sizes on a single end of arm tool.
The maintenance-free AllTrax system automatically alerts personnel when product does not follow the required path through the retort. Operators can access the status of every basket logged into the system via human machine interface (HMI). In cases where product status does not match the proper location; the operator is alarmed, the alarm is logged, and plant management is required to assess the situation. Strict password protection is used to protect the system from any unauthorized overrides.
Through AllTrax and other software tools including the Allpax Automated Batch Retort System, Challenger, and AllCheck, operations possess a date and time stamped electronic record of every basket's/product's journey through the sterilization process. Now with AllTrax integration using robotic arms to load and unload baskets, companies have start-to-finish monitoring and alarm-based supervision of product as it enters and leaves the retort room. Allpax products satisfy or exceed requirements outlined in 21 CRF Part 11 for electronic recordkeeping for batch retort systems.
Robots are ideal multitaskers in an automated retort room. They load, unload, stack, and de-stack containers and trays. They handle randomly oriented packages arriving via conveyor from a filler. Flexibility in end of arm tooling provides operations with the ability to launch new containers at a lower initial capital cost as well as minimize the labor required to produce retorted products. Allpax has been making extensive investments in software tools, and innovative tray designs, to make these effective robotic systems even more productive.
"With a robot, customers can handle 20 packages per minute or 300 per minute for the same price," said Scott Williams, Vice President of Sales, for Allpax. "This gives the operations flexibility in terms of test marketing new products and production of standard products and packages on the same line. We have some of the most experienced people available working with our robotic handling systems and validation and safety systems as well."
Allpax, a Level 4 Fanuc certified system integrator, reports that its robotic cells are 25 to 40 percent lower in cost than custom-built gantry or sweep systems due to shorter design time. Most Allpax robotic cells range from 100-300 units per minute with some systems having an up to 500 unit per minute capacity.
"By placing additional resources behind robotic solutions for pouches, bowls, and cartons, as well as continuing development of high-speed automated systems for cans and bottles, Allpax offers a one stop shop for retort room automation," Williams said. "With our wide assortment of options, we identify and propose the best solution for the long-term benefit of our customers."
In addition to robotic handling, Allpax is also one of the world's leading manufacturers of overhead gantry systems and sweep loading and unloading systems for cans and bottles. Gantry systems are rated at 500 pouches per minute and higher. The Allpax sweep type Hyperloaders are rated at up to 3,000 212X 107 sized cans per minute. Allpax designs and manufactures fully automated retort rooms as well as lab and production retorts, including Shaka and Gentle Motion retort agitation, which are ideal for fast, efficient sterilization of food packaged pouches, trays, and cartons. For more information on robotics linked to AllTrax in the retort room, visit www.Allpax.com or call 888-893-9277.
About Allpax Products
Allpax Products, a market leader in retort technology and retort room automation, designs, manufactures, and delivers turnkey sterilization solutions for the food, beverage, pet food, and pharmaceutical industries. The company is recognized for helping customers become more successful by decreasing time to market with laboratory retort equipment, lowering overall labor costs through automation, and increasing the overall throughput of the sterilization process. www.Allpax.com
About ProMach
ProMach is a family of best-in-class packaging solution brands serving manufacturers of all sizes and geographies in the food, beverage, pharmaceutical, personal care, and household and industrial goods industries. ProMach brands operate across the entire packaging spectrum: filling and capping, flexibles, pharma, product handling, labeling and coding, and end of line. ProMach also provides Performance Services, including integrated solutions, design/build, engineering services, and productivity software to optimize packaging line design and deliver maximum uptime.
ProMach designs, manufactures, integrates, and supports the most sophisticated and advanced packaging solutions in the global marketplace. Its diverse customer base, from Fortune 500 companies to smaller, privately held businesses worldwide, depends on reliable, flexible, technologically advanced equipment and integrated solutions. ProMach is headquartered near Cincinnati, Ohio, with manufacturing facilities and offices throughout the United States, Canada, Mexico, Brazil, Europe, United Arab Emirates, and China. For more information about ProMach, visit www.ProMachBuilt.com.
More from Electronic Components & Devices