Robot is equipped for water jet cutting applications.
Press Release Summary: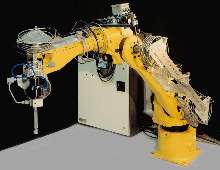 Featuring software accuracy tools and memory necessary to perform high path accurate applications, Accu-Cut WJ-44 offers wrist payload of 44 pounds. It uses R-J3iB controller for processing speed, memory, I/O, and communication processing. Robot also supports i Pendant color graphic user interface device.
---
Original Press Release:

Robotic Production Technology Introduces Accu-Cut WJ-44 at Composites 2002


Atlanta, GA, September 25, 2002 - Robotic Production Technology introduces the new Accu-Cut WJ-44 robot. The Accu-Cut WJ-44 sports the largest work envelope and fastest speeds in its class and comes equipped specifically for water jet cutting applications with increased memory and accuracy enhancement software options. The new unit will decrease cycle time and increase path capability.

This unit, the former M-16i robot, sports a smaller wrist by 14 percent and smaller arm by six percent, allowing the robot to reach into extremely compact work areas. Rigidity and stiffness have also been increased to enhance the robot's performance in water jet cutting. While the wrist and arm are smaller, the robot has enhanced loading capabilities. The wrist payload has been increased from 35 to 44 pounds, putting it at the top of its class.

"Manufacturers will see the increased stiffness and rigidity help to improve the performance of the new WJ-44 robot, which will enhance its water jet cutting capability," said Chuck Russo, chairman and CEO of Robotic Production Technology. "The WJ-44 also comes equipped with the software accuracy tools and memory needed to successfully perform the high path accurate application."

Wrist moments have been increased 12-25 percent along with wrist inertia, which has been increased 4-26 percent. In addition, the height of the unit has been reduced by 178 mm, providing more available workspace.

The WJ-44 uses the new R-J3iB controller, which has the highest performance ever for FANUC robot controllers with increased processing speed, memory, I/O and communication processor enhancements over the previous R-J3 controller.
User application programs written for the R-J3 controller will run on the R-J3iB with little or no modifications, protecting customers' investments in engineering developed using the R-J3 family of products.

The robot also supports the new i Pendant, an innovative color graphic user interface device to the R-J3iB, based on Internet technology. The i Pendant is a new color graphic user interface device for the R-J3iB Controller that includes an integrated Internet Web browser allowing critical support information to be accessed right from the robot. Users can access corporate Web sites, FANUC electronic documentation/manuals, advanced diagnostic and part information or other equipment. It provides a single point of access to Web-based information.

The ergonomically designed i Pendant improves operator efficiency. Its intuitive multi-window display and a large color LCD screen make it easy to use and learn. Users of the i Pendant can expect to see increased uptime due to integrated diagnostics and decreased training time since it is compatible with the current teach pendant and includes integrated help functions.

This intuitive color graphic interface provides the user with integrated help and diagnostic functions as well as enhanced robot and process data display.

Users can create customized displays using the newly released EasyPanel development environment. With EasyPanel, the i Pendant custom components are simply dragged and dropped onto a Web page that can be displayed on the i Pendant. Buttons, lamps, switches, dynamic graphs and bar charts can be easily combined to create custom HMI, Production Status, Diagnostic, and a host of other types of screens, saving system cost by replacing PC's or other HMI devices.

The i Pendant is interchangeable with FANUC Robotics' standard teach pendant on the recently introduced R-J3iB Controller and can be purchased as an upgrade option.

Robotic Production Technology (RPT) is an Auburn Hills, Michigan-based turnkey robotic systems supplier for the plastics, appliance, automotive, aerospace, construction, consumer goods and marine industries. Process expertise includes waterjet cutting, router trimming, laser trimming and scoring, deflashing, material handling, flexible measuring systems, assembly, adhesive dispensing, joining and welding. Capabilities include project management, engineering, simulation services, fabricating and machining, system integration and certification, software, training, service and support. Since 1985, RPT has been a leading manufacturer of flexible manufacturing systems utilizing five- and six-axis robots, with an installed base of more than 1,800 robots. For more information, contact RPT at 248-829-2800, email solutions@rpt.net or online at rpt.net.


More from Machinery & Machining Tools