Robot Assisted 3D Scanning System combines CMM and StereoSCAN.
Press Release Summary: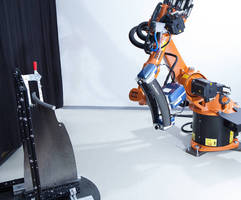 DPA coordinate measuring machine, used in conjunction with breuckmann stereoSCAN, delivers automated 3D scanning capable of handling delicate structures or minute deviations. With change of lenses or repositioning of camera modules, system can be adjusted to suit any individual scanning task. Measuring fields ranging from few millimeters up to 1 m, and accuracy level of <1/10 mm is ensured by reference setup. Measuring processes can also be employed to create digital components archive.
---
Original Press Release:

Versatile, Robot Assisted 3D Scanning



Sophisticated 3D measurement technology at the highest precision



Braunschweig/Meersburg, Germany - Automated three-dimensional scanning at the highest precision – now possible with the breuckmann stereoSCAN in conjunction with AICON's coordinate measuring machine DPA.



Whenever scanning of most delicate structures or smallest deviations at a maximum level of accuracy is required, stereoSCAN is called into action. A quick change of the lenses or repositioning of the camera modules and the system is adjusted to perfectly suit any individual scanning task. Measuring fields ranging from a few millimeters up to one meter are configured and accomplished swiftly and easily. An accuracy level of significantly less than 1/10 mm is ensured by the reference setup, which is measured once only with the DPA.



The combination of these two systems with the object specific reference setup, a robot and a turntable allows for fully automated high precision digitization and inspection even of very large-scale measuring objects, enabling the data to be promptly evaluated and available for further processing.



The settings required for the automatic component measurements are specified once only; subsequent measurements can be repeated as often as needed while consistently maintaining the same level of quality. Surface data as well as hole pattern data and cut out data are captured at a high degree of density and accuracy. Overall, the digitization processes allow time and cost-saving measurements to be achieved and inspections of large quantities – the basis for optimized production planning.



In addition to automated quality inspection, the highly precise measuring processes can also be employed to create a digital components archive. This, for example, enables digitized prototypes and their respective inspection reports to be readily available as reference material for optimization and production.



About AICON and Breuckmann:

AICON 3D Systems is one of the world's leading providers of optical camera-based 3D measuring systems. The company, founded in 1990, develops and distributes systems for the business areas of inspection and testing including car safety and tube inspection. Since the acquisition of Breuckmann GmbH in August 2012, the product range also includes scanners for 3D measurement of complex geometries. AICON's reference list boasts renowned automotive manufacturers and suppliers, companies from the aerospace industry, and the areas of shipbuilding and renewable energies. Its latest products for automated test and process control open new worldwide market fields and obtain outstanding growth. For more information please visit www.aicon3d.de | www.breuckmann.com.



Sales Contact breuckmann 3D Scanner:

Breuckmann GmbH

Torenstraße 14

D - 88709 Meersburg

Tel.: +49 (0)7532 43 46 0

Fax: +49 (0) 7532 43 46 36

E-Mail: sales@breuckmann.com



Press Contact breuckmann 3D Scanner:

Breuckmann GmbH

Martina Maier

Torenstraße 14

D - 88709 Meersburg

Tel.: +49 (0)7532 43 46 42

Fax: +49 (0) 7532 43 46 36

E-Mail: martina.maier@breuckmann.com

More from Material Processing