Road Sweepers clean up ferrous materials.
Press Release Summary: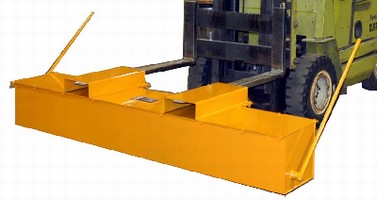 Designed to remove hazardous metal debris from floors, worksites, and roadways, Magnetic Road Sweepers use either permanent magnet or electromagnet for vehicle-mounted applications, including forklifts and skid-steers. Units come in 4, 5, 6, 7, and 8 ft wide models, with magnet measuring length of unit by 10 in. wide and 3 in. deep. Made from 304 stainless steel, sweepers are engineered with release lever mounted on side and 3 in. sweeping height.
---
Original Press Release:

Storch Magnetics' New Heavy-Duty Permanent Sweeper Magnet Cleans Up Ferrous Materials Quickly and Efficiently



Storch Magnetics introduces a new Magnetic Road Sweeper using either a permanent magnet or electromagnet for vehicle mounted applications such as a forklift or skid-steer to sweep industrial or commercial floors, worksites, roadways, construction sites or any area where ferrous materials need removal. These sweepers are an efficient and effect way to easily remove hazardous metal debris.
Sweepers are available in various magnetic strengths from standard to high intensity in both permanent and electromagnetic technologies.

Storch heavy-duty Magnetic Road Sweepers are available in 4 ft., 5 ft., 6 ft., 7 ft., and 8 ft. width models. The magnet for each model is the length of the unit by 10 inches wide and 3 inches in depth. It can easily sweep ferrous scrap from small to large bolts, nuts, shavings, chips, hammers C-clamps, shrapnel and any other types of ferrous hazardous materials to prevent personal injuries and reduce liability.
Each has a convenient release lever mounted on the side, and is engineered for a three-inch sweeping height with higher sweeping heights available. Sweepers are also available with a battery-operated hydraulic release that's conveniently activated by the vehicle driver.

Storch Magnetics also offers a series of high-powered electromagnetic sweepers that use an on-board gas or diesel generator for skid steer and fork lifts. These units have a convenient on/off switch activated by the fork-lift operator. A nice feature with this system is that the generator that operates the electromagnet can also power hand tools.

Storch can build or retrofit a sweeper to just about any type of vehicle including snowplows, trucks, Hi-Los, Bobcats, tractors, or utility vehicles.

Storch Magnetics' magnetic sweepers are made from 304 stainless steel and are very robust. Compared to other competitors' standard units, they are a much more rugged unit and built for long service life. The company has engineered and manufactured many special and custom Magnetic Road Sweepers for unique applications. Please call for a quote on a non-standard unit.

For more information, please contact the public relations department at Storch Magnetic & Material Handling Solutions, pr@storchmagnetics. Storch is an ISO9001:2000 and WBENC Certified Company.

Storch Magnetics is a leader in magnetic product applications since 1952. Storch provides magnetic slide conveyors, separators and filters, holding and lifting magnets, magnetic sweepers and specially designed magnetic products. For more information visit us at www.storchmagnetics.com.

More from Mechanical Power Transmission