RMI's Next Generation of Precision Cylindrical Lenses: Enhanced Cylindrical Lens Line Includes a Range of Materials from DUV to FIR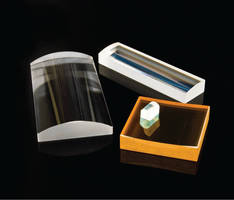 Lafayette, Colorado — By developing a proprietary manufacturing process that includes state-of-the-art equipment and technical know-how, Rocky Mountain Instrument Co. (RMI) has enhanced their custom lens product line with a new generation of custom and standard precision cylindrical lenses.



Available in a variety of size, shapes and materials, RMI offers high quality cylindrical lenses that are designed per customer specification ranging in Deep UV to Far IR applications.



The wide range of optical materials include Fused Silica, BK7, high index glass, CaF2, MgF2, BaF2, ZnSe, Si, Ge and Sapphire. Sizes range from 10 millimeters to 6 inches depending on focal length and thickness.



Tough to hit cylindrical lens specifications such as custom sizes and dimensions, long radius and long focal length (up to 10 meters) have now become a RMI specialty due to enhanced manufacturing capabilities.



Cylindrical lenses focus incoming light in one dimension only. They are used in applications where a point image needs to be transformed into a line image or when the height of an image needs to change without causing a change in width (or vice versa). Typically, RMI's high efficiency narrowband, anti-reflective coating are applied to both sides of the lens.



Backed by years of experience in optics and thin film coatings technology, this next generation of cylindrical lenses adds to RMI's long legacy as a high quality precision optical manufacturer. Other RMI optics product lines include spherical lenses, mirrors, windows, beamsplitters, prisms, waveplates, and opto-mech assemblies.



Visit rmico.com for more information about these new products as well as RMI's other product offerings.



More from Machinery & Machining Tools