Rivet Tool features ergonomic design.
Press Release Summary: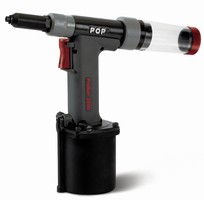 POP® ProSet® 2500 Rivet Tool sets all 3, 4, 5, and 6 size blind rivets, including high-strength and SS, delivering 2,110 lb of pulling power with force-to-weight ratio of 730 lbf/lb. At 11.42 in. long and 10.20 in. high with stroke of .71 in., it requires only .076 cu ft of air per rivet set. Tool also features lightweight polymer handle, 2-finger, low-activation force trigger, and directional air exhaust to keep air away from tool user.
---
Original Press Release:

New Lightweight POP ProSet 2500 Rivet Tool Delivers Heavyweight Rivet Setting Power



The world leader in blind rivet technology has expanded its POP brand tool product line to include a new lightweight tool featuring unique ergonomic design and the ability to set all 3, 4, 5 and 6 size rivets, including high strength and stainless steel.

(Shelton, Connecticut) Emhart Teknologies has announced the launch of the new POP® ProSet® 2500 Rivet Tool. Designed specifically to set all 3, 4, 5 and 6 size blind rivets, including high strength and stainless steel, this new tool delivers 2,110 lbs. (9.4kN) of pulling power with a force-to-weight ratio of 730 lbf/lb (7.18kN/kg).

According to the Global POP® Tools Product Manager, Joaquin Sanchez," The 2500 has an impressive pulling strength, and when you consider the 730 lbf/lb force-to-weight ratio, no other tool in its class even comes close."

The ProSet® 2500 rivet tool is the latest member of the POP® power rivet tool family and continues Emhart Teknologies' ongoing effort to provide high performance lightweight, easy to maintain fastening installation tools. The 2500 weighs in at only 2.65 lbs. (1.20kg) and 2.89 pounds (1.31kg) with the Mandrel Collection System (MCS), yet can set any rivet from 3 to 6 size. It is only 11.42 inches (290mm) long and 10.20" (259mm) high; but with a stroke of .71 inches (18mm), it can set long rivets in one pull of the trigger. Air consumption is minimal, requiring only .076 cu. ft. (2.15 cu. liters) per rivet set.

Ergonomically speaking, the new tool features a strong yet lightweight polymer handle, a comfortable two-finger, low activation force trigger, a rounded grip and a directional air exhaust to keep air away from the tool user.

It is also rich in performance features, including a patented quick disconnect nose housing and jaw case which allows for easy jaw cleaning and front end maintenance. The 2500 has a quick disconnect MCS cup, which safely captures spent mandrels for easy disposal and an air-isolation safety switch which shuts off the vacuum when the MCS is disconnected while the tough aluminum casing is designed to prevent damage and enhance the life of the tool. Other features include the left or right, 90° swivel air fitting which ensures the tool can be adapted to virtually any workstation configuration, an "on/off" switch minimizing air consumption and a spring return which ensures fast, reliable setting cycles. Finally, an extended 5" front end is also available for extra reach in special setting situations.

Mr. Sanchez noted, "The ProSet® 2500 is also compatible with all Emhart Teknologies automation technologies including the remote Mandrel Collection System (MCS) and the POP® Rivet Presenter (RP). Coming in 2008, we will expand compatibility to include the state-of-the-art SmartSet® integrated process monitoring system."

SmartSet® process monitoring system "reads" the force/time curve during installation of POP® blind rivets. The controller counts correct installations and signals a warning system if an operator or application default error is detected. Correct installation and fault occurrence data can be uploaded or automatically fed into a computer system for analysis. Requiring only a ¼ inch airline and a single shielded wire to connect the tool to the controller, these SmartSet® upgrades will make the tool more flexible without sacrificing ergonomics.

Mr. Sanchez adds, "The new ProSet® is absolutely among the most powerful lightweight rivet setting tools in the world today. It represents a major advance that sets a new standard in design and functionality which translates into longer life and lower rivet setting costs for our customers, no matter what material of size rivet they are using. "

About Emhart Fastening Teknologies

Headquartered in New Haven, Connecticut, Emhart Teknologies is the global leader in the design and creation of unique assembly technologies, from concept through installation. Emhart's technology-based assembly products and systems are designed to deliver innovative, integrated system solutions to virtually any manufacturing challenge anywhere in the world. From automotive to construction, from computer to appliances, Emhart products and systems are distributed and sold in more than 100 countries. A Black & Decker Company, Emhart has 3,000 employees within 24 operating facilities worldwide. For more information or a product video demonstration please go to www.emhart.com.

Contact Cindy Blish
203-944-1706
cindy.blish@bdk.com


More from Cleaning Products & Equipment