Riverview Systems Group Expands Audiovisual Inventory with Shure Axient Digital Wireless Microphone Technology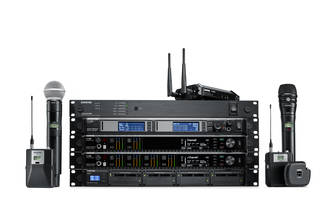 Advanced Audio Capability Delivers Increased Quality and Reliability for Live Events and Complies with FCC 600 MHz Spectrum Changes
MILPITAS, CALIF. - DECEMBER 07, 2017-  Riverview Systems Group, the award-winning, full-service provider of engaging and innovative live events, has expanded its extensive professional audio technology inventory with the addition of more than 100 Shure Axient® Digital and ULX-D Wireless microphone systems. The investment reflects Riverview's commitment to deliver state-of-the art audiovisual technology to clients across all areas of the company's business, including live event production, systems integration and trade shows, and it brings it into compliance with new FCC spectrum regulations, well ahead of published deadlines.
Riverview, also celebrating its 30-year anniversary this year, has relied on Shure professional microphone technology since the company's inception. As one of the first production companies in the Bay Area to receive the Axient Digital wireless systems, Riverview is also positioned to comply with the FCC 600 megahertz (MHz) TV Band repack spectrum allocation changes slated for the Bay Area in 2018.
"We value our decades-long partnership with Shure, who continue to help us navigate the constant changes in audio equipment and technology," said Evan Williams, Riverview founder and CEO. "Shure is among the first companies to identify the spectrum allocation challenges facing the industry, and, as early adopters, we are excited to include its advanced wireless microphone systems in the Riverview inventory to deliver flawless fidelity, reliability, and connectivity to ensure our inventory remains ready to meet real world A/V demands."
Williams explains that the decision to invest early in the new Axient Digital wireless systems stems in part from recent FCC regulations surrounding reallocation of the 600 MHz Band to mobile broadband use, meaning not only are wireless microphone systems operating in that frequency range at risk of not working reliably, especially in congested urban environments such as hotels and convention centers where live event productions take place, but that interfering with new services is illegal and subject to FCC fines.
"The Shure digital platform is well respected and preferred by all major artists and producers," Williams added. "The use of wireless microphones and in-ear monitors are essential aspects in delivering superior staging experiences, ranging from large-scale user group meetings to presentations at trade show exhibit halls. The Axient Digital systems wireless upgrade was the logical choice for us, as they provide clear microphone frequencies that deliver advanced audio performance, reliability, and will easily integrate with our extensive inventory of sophisticated audio technology."
"Shure is excited to have Riverview as one of the first production partners in the Bay Area to add Axient Digital to its inventory," said Tim Valley, Shure Regional Sales Manager. "The Axient Digital system offers the flexibility to work in the available spectrum, whether the number of channels required is great or small, to deliver the pristine sound quality that today's productions demand."
About the Shure Axient® Digital Wireless Platform
As the new premier wireless in Shure's successful wireless microphone system portfolio, Axient® Digital is the most advanced wireless platform to date, suited for all professional productions and situations. Catering to evolving customer needs—especially in an environment of continued RF spectrum pressure - Axient Digital provides high-performance RF, exceptional audio quality, command and control, and hardware scalability.
About Riverview Systems Group
Since 1987, Silicon Valley-based Riverview Systems Group, Inc., has been providing the world's leading brands with the technical and production design expertise to successfully produce engaging and innovative live events The award-winning, full-service provider of audio-visual resources specializes in the rental, sale, design, installation and implementation of lighting, sound and video systems for corporate, retail, museum and educational markets.
Riverview offers a comprehensive array of technical and creative services, as well as an extensive inventory of state-of-the-art, well-maintained equipment including cutting-edge wide-screen projection, media server delivery, and LED display technology. Riverview works hand-in-hand with clients to share their expertise and accommodate any sized production to deliver extraordinary brand experiences.