Riverdale Global Offers Multiple Liquid UV Stabilizers for Use with a Wide Range of Resins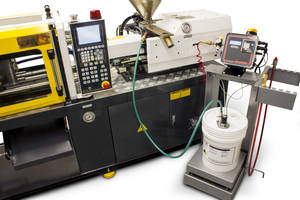 +Shield™ Light Stabilizers Make Possible Lower and More Precise Dosing than Pellet Masterbatch and Disperse More Uniformly in the Polymer Melt
ASTON, PA, U.S.A., August 9, 2017: Diverse UV light stabilizers from Riverdale Global come in liquid form, providing lower additive costs than pellet masterbatch and improved end-product quality.
+Shield™ light stabilizers are available in seven standard grades for use in injection molding, blow molding, and extrusion. Depending on grade, they are recommended for use with polyolefins, styrenics, PET, TPEs, and engineering thermoplastics. Four of the grades are FDA-approved, and two of these can also be used as UV absorbers in packaging applications.
The economic and product-quality advantages of +Shield light stabilizers over pellet masterbatch result from the lower and more precise dosing made possible by their liquid form and their improved rate of dispersion in the polymer, according to Charles B. Irish, vice president of product development.
Also available for use with +Shield light stabilizers is the Riverdale Gravimetric Stand (RGS), in which a liquid-containing drum is mounted on a self-calibrating loss-in-weight scale that continually reports the weight of the contents to the controller as a means of ensuring that the target let-down ratio is maintained. "Use of Riverdale Global's gravimetric metering system provides an additional level of precision, allowing for controlled conditions over the entire production run," said Mr. Irish.
+Shield light stabilizers are available in pails or drums, in custom blends with liquid colors, or as one of the GlobalPlus™ range of liquid additives. GlobalPlus products are single-additive liquid dispersions designed for processors who run clear or natural resins or who need to supplement the additive packages in pre-compounded or masterbatch materials. In the GlobalPlus system, each additive is supplied in a drum with a built-in pump that stays sealed from the moment it arrives at the processor's loading dock, through storage, handling, and metering into the process, and during return to Riverdale Global for replenishment.
RIVERDALE GLOBAL specializes in liquid color management for the plastics industry through our sealed color technology and global service network. The company's world headquarters is in Aston, Pennsylvania, U.S.A., with international offices based in the United Kingdom, Dubai, Singapore, and China. The Riverdale legacy dates back to the early 1900s as a supplier of dyes and industrial chemicals with a focus today on economy through process automation, sustainability and local service. Email: contactus@riverdaleglobal.com. Visit www.riverdaleglobal.com.
More from Cleaning Products & Equipment