Ripping Machine targets small to medium-sized shops.
Press Release Summary: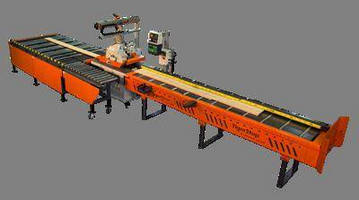 Automating ripping process using computer-controlled system, TigerRip 1000 Rip System features Dynamic Optimization™, which enables simultaneous optimization of panel and fixed width lumber. Machine offers 1–15 in. rip capacity with 18 in. stroke, 30–110 fpm feed speed, and 2,000–4,000 BF/shift based on 8 hr shift using 12 ft stock material. TigerRip 1000 can track cut list progress and provide inkjet labeling on each strip. For lean production, users can rip only what is needed by job or batch.
---
Original Press Release:

TigerStop Introduces TigerRip 1000



Ripping Automation & Dynamic Optimization Brought to Small Shops



Vancouver, WA – TigerStop has just announced the introduction of its new TigerRip 1000 Rip System. TigerRip 1000 performs material optimization and rip saw automation functions usually only attributed to larger systems, which cost hundreds of thousands of dollars, enabling small to medium-sized shops to afford large shop performance and efficiency. Through Dynamic Optimization™ of random width lumber, TigerRip 1000 automates ripping and provides shops with unsurpassed material yield - from a lower grade of wood - vastly increasing performance efficiency and lowering material costs. It also has the ability to track cut list progress and provide ink-jet labeling on each strip. TigerRip 1000 was designed and built as a fully-integrated rip system which includes a material handling solution and proprietary software technology.



"Large shops rely a great deal on highly sophisticated, automated saw systems to help them maximize yield, increase efficiency and ensure accuracy," says company founder and President, Spencer Dick. "With TigerRip 1000, we've now made that same level of technology, efficiency, and performance affordable for the small to medium-sized shop."



TigerRip 1000 – Performance

• 1 to 15" Rip capacity with an 18" stroke

• 30-110 Feet/Minute feed speed with glue line quality

• 2,000 – 4,000 BF/Shift based on an 8hr shift using 12Ft stock material



Most small to medium-sized shops rely on human saw operators, who, by their very nature, along with the capabilities of the operating systems currently available, are unable to truly maximize and optimize yield when ripping material or making additional or multiple rips. The typical shop usually rips FAS grade material.



With TigerRip 1000, the entire process is automated by a computer-controlled system that is accurate, intuitive and easy to use. The only operation left up to the operator is feeding material into the system. A shop using TigerRip 1000 dramatically lowers its material costs by using 1 Common and getting the same - or even an increase - in yield when compared to shops using typical methods to rip FAS.



TigerRip 1000 Features:




Dynamic Optimization™ enables simultaneous optimization of panel and fixed widths



Track cut-list progress – keeps track of lineal footage of fixed width strips and square footage of panel strips



Ink-jet strip-labeling for easy sorting



Lean production - rip only what is needed by job or by batch



Optimized production - batch multiple jobs for increased yield



Ease of operation by unskilled labor



Increased safety – operator remains in a safe zone away from saw in-feed



TigerRip 1000 will be unveiled at the International Woodworking Fair (IWF), where as of press time, it is a Challengers Award semifinalist. Show attendees can see the new saw system in the TigerStop Booth #5747



TigerStop was founded in 1994 by Spencer Dick, who as the owner of a thriving manufacturing business, became frustrated with the inherent inefficiencies of his machine operators stopping to reset and recalibrate whenever they were cutting material to various lengths. Spencer also noticed that regardless of how carefully material was measured, the end results were always of slightly different dimensions. He founded TigerStop to automate the cutting process so that exact and accurate parts, whether wood, metal or plastic, would result each and every time.



About TigerStop

TigerStop, LLC is a global leader in automated stop/gauge and pusher systems under the TigerStop and SawGear brand names. Headquartered in Washington State, TigerStop is a U.S. manufacturer of products for the cabinet, furniture, construction, fenestration, electronics, plastics and metalworking industries. TigerStop has a second manufacturing and distribution facility in Wierden, Netherlands, a distribution network spanning six continents, and product support in five languages. TigerStop products easily integrate with existing equipment to help optimize and improve the accuracy of all lineal cutting processes. To view videos and testimonials or to request a quote, please visit www.tigerstop.com or phone 360-254-0661.



Lorilee Torrey

Ph 541-552-1133

atlass marketing & media

NEW ADDRESS!

6715 NE 63rd St., Ste. 341

Vancouver, WA 98661

www.atlassmarketing.com





More from Optics & Photonics