Rigid Vinyl permits high-speed, multi-cavity parts moulding.
Press Release Summary: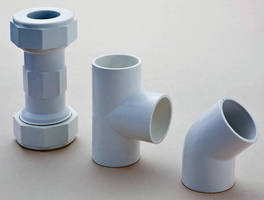 Exhibiting thermal stability required in hot runner moulding and reprocessing of scrap, Apex® RM 8201 vinyl makes possible high-speed, multi-cavity, and large-part injection moulding of plumbing and drainage components in potable water, septic, and sewer systems. This NSF 61-listed, flame-retardant, rigid PVC compound has UL 94 flame ratings of V-0 and 5VA and provides tensile and impact properties suited for fittings, valves, flanges, and other parts.
---
Original Press Release:

Flame-Retardant, NSF 61-Listed Rigid Vinyl Permits High-Speed and Multi-Cavity Molding of Fittings, Valves, and Related Parts



Apex® RM 8201 Compound from Teknor Apex Exhibits Excellent Mechanical Properties for Components in Potable Water, Septic, and Sewer Systems



PAWTUCKET, RI, U.S.A.:  A new NSF 61-listed, flame retardant rigid PVC compound makes possible high-speed, multi-cavity, and large-part injection molding of plumbing and drainage components, it was announced today by Teknor Apex Company. 



Apex® RM 8201 vinyl has UL 94 flame ratings of V-0 and 5VA and provides the excellent tensile and impact properties valued for fittings, valves, flanges, and other parts (see table). The compound exhibits the superior thermal stability required in hot runner molding and in reprocessing of scrap, according to Michael J. Renzi, business development manager for the Vinyl Division of Teknor Apex.



"The combination of flame, mechanical, and processing properties available with Apex RM 8201 makes this compound a fully practical alternative to premier NSF 61 high-flow PVC molding products currently on the market," said Mr. Renzi. "Because of the versatility and high performance level of this compound, we see it as a single-source rigid PVC for a wide range of molding applications



The VINYL DIVISION of Teknor Apex Company is a leading manufacturer of compounds based on PVC, including Apex® flexible and rigid vinyl, Flexalloy® vinyl elastomers, and Fireguard® low-flame, low-smoke compounds for wire and cable.  Headquartered in Pawtucket, Rhode Island, U.S.A., the Division is an international supplier to the appliance, automotive, construction, medical device, wire and cable, and other industries. Parent company Teknor Apex operates manufacturing facilities around the world and sells in 90 countries. Six of the Teknor Apex business units focus on plastics compounding, including bioplastics; color concentrates; nylon; thermoplastic elastomers; toll and specialty compounds; and vinyl. Visit www.teknorapex.com.



READER INQUIRY INFORMATION:  Address all mail inquiries to Teknor Apex, 505 Central Avenue, Pawtucket, RI  02861 U.S.A. Tel: 1-401-725-8000.  Tel. from U.S. only: 1-800-554-9892. Fax: 1-401-729-0166. E-mail: vinyl@teknorapex.com.



Robert J. Martino

Martino Communications Inc.

8 Main Street / P.O. Box 379

Hastings-on-Hudson, NY 10706 U.S.A.

Tel: 1-914-478-0754

Email: bob@martinocommunications.com

www.martinocommunications.com

www.twitter.com/MartinoComms

More from Optics & Photonics