Right-Angle Planetary Gearbox serves dynamic applications.
Press Release Summary: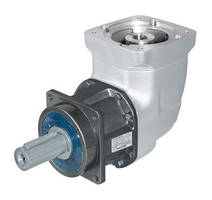 Offered in 5 sizes (060, 070, 090, 130, and 160), precision gearboxes of TQK series offers nominal torque from 30–800 Nm and ratios from 6–200 due to design based on one and two reduction sizes. Housing and mono-block planetary carrier maximize torsional stiffness, while planetary full-needle roller bearings allow optimal torque output. Along with standard and reduced backlash lower than 4 arc min, features include smooth/keyed shaft and bearings rated to handle radial and axial loads.
---
Original Press Release:

Top Performance with TQK Right-Angle Precision Planetary Gearboxes



Bonfiglioli is proud to announce the new TQK series - Right-Angle Precision Gearbox version. This outstanding precision gearbox is complementary to the TQ series and boasts maximum power density, allows for top performance, and offers a space-saving installation solution. Due to its cutting-edge design and stellar performance, it covers a wide area of application where dynamic, high-speed, and top precision actions are required as well for reverse operations and a high number of starts and stops. TQK is particularly suitable for dynamic positioning applications for packaging and machine tooling as well for flat-bed machinery for wood working. In addition, it can carry out continuous running applications necessary for printing and paper converting.TQK provides a maximum power density. It features a versatile design in 5 sizes (060, 070, 090, 130 and 160), ratios from 6 up to 200 thanks to its design based on one and two reduction sizes, all this with a nominal torque from 30-800 Nm.



Furthermore, its distinctive housing design and optimized mono-block planetary carrier provide a markedly high torsional stiffness that can meet any application requirement from a faster dynamic to a higher number of stops and reverse cycles. The optimized planetary full-needle roller bearings allow for a higher torque output due to the maximizing of the contact points and increased stiffness, reduced wear and backlash. The TQK Series is equipped with higher-rating bearings that can handle higher radial and axial loads, and the reinforced bearing options extend higher performance. Its design is also suited for S1 & S5 operation with a very reliable catalog rating and selection procedure. The TQK series also comes equipped with a standard and reduced backlash lower than 4 arcmin and a smooth/keyed shaft. The combination of the reduced backlash and the high stiffness allows the TQK series to offer the highest level of precision.



These notable design features make the TQK series the best planetary gearbox solution available with the highest input speed rank to match the fastest servomotors on the market as well as the highest flexibility for input flanges to that can correspond with both Bonfiglioli and the most common servomotors. The TQK series can satisfy the most demanding needs by providing the most versatile and forward-thinking solution.



http://tekinfo.link/rd3ea08850



Jennifer  Panepinto

Phone: -

Fax: -

jennifer.panepinto@bonfiglioli.com



BONFIGLIOLI RIDUTTORI S.P.A

Via Giovanni XXIII 7/a

40012 Lippo di Calderara di Reno

Bologna, Italy

Deborah BRANDOLI

Phone: +39 051 647 3932

deborah.brandoli@bonfiglioli.com

More from Fasteners & Hardware