Right-Angle High-Speed Connector Strips have slim design.
Press Release Summary: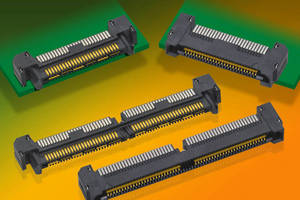 Right-angle Q Rate® connector system suits micro backplane and other high-speed applications with limited space. Ground/power plane of QRM8-RA and QRF8-RA Series allows close contact placing without signal performance degradation, resulting in 5 mm slim body that helps minimize PCB real estate. Smooth, broad, milled surface of Edge Rate(TM) contacts increases wear life and minimizes effects of broadside coupling, which decreases crosstalk for optimal signal integrity and impedance control.
---
Original Press Release:

New Right Angle High Speed Q Rate® Connector Strips



Samtec's new right angle Q Rate® connector system is ideal for micro backplane and other high speed applications where space is limited but performance cannot be sacrificed. The high speed, slim body system is equipped with an industry standard ground/power plane and Samtec's rugged, signal integrity-optimized, Edge Rate(TM) contacts.

The ground/power plane of the QRM8-RA and QRF8-RA Series allows the contacts to be placed closer together without degrading signal performance. The result is a slim 5mm body design to help minimize PCB real estate for limited space applications.

The smooth, broad, milled surface of the Edge Rate(TM) contacts increases wear life and minimizes the effects of broadside coupling, which decreases crosstalk for superior signal integrity performance and impedance control. This contact system is also robust when mating and unmating, and features a long contact wipe, which improves the mating angle tolerance.

The 0,8mm pitch right angle system is dual-row and available in 1, 2 or 3 banks with up to 78 positions per row. Optional guide posts for blind mating are also available.

This new addition to the Q Rate® family allows greater flexibility by providing a solution for coplanar and perpendicular applications. The space-saving Q Rate® connector is also available in a vertical orientation with stack heights from 7mm to 14mm.

Pricing begins at about $ .07 per pin.

For detailed product specifications, see www.samtec.com/QRM8-RA and www.samtec.com/QRF8-RA. Contact Samtec, Inc., P.O. Box 1147, New Albany, IN 47151-1147 USA. Phone: 1-800-SAMTEC-9 (800-726-8329), www.samtec.com

More from Services