Right-Angle Head makes consistent horizontal holes/grooves.
Press Release Summary: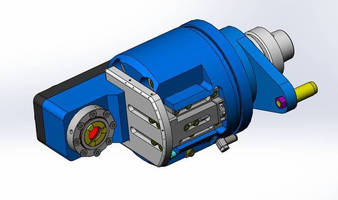 Single-sided, right-angle head aggregate, designed to machine holes or grooves into workpiece edges horizontally, features material top-floating capacity that allows machining at consistent distance from top of workpiece. Product recognizes inconsistencies in material thickness as well as any waviness in overall workpiece; floating range of 8 mm allows for positive or negative travel of 4 mm.
---
Original Press Release:

BENZ Inc.'s New Right-Angle Head Makes Machining Horizontal Holes or Grooves More Consistent



HICKORY, NC — BENZ Inc., a technological leader for the production of innovative machining heads for the wood, plastics, composites and metalworking industries, has announced that it is now offering a new single-sided right-angle head aggregate specially designed for consistent horizontal machining of holes or grooves.



"Drilling horizontal dowel holes into the leaves used to expand a dining room table is a perfect example of how this head might be used," explained Paul Roza, National Sales Manager Wood, Plastics and Composites, BENZ Inc. "Our new right-angle head will ensure that the top surfaces are perfectly matched when the leaves are inserted and the table closed around them."



BENZ Inc.'s new single-sided right-angle head aggregate was designed to machine holes or grooves into workpiece edges horizontally. The head's material top-floating capacity also allows you to machine at a highly consistent distance from the top of the workpiece. It recognizes inconsistencies in material thickness as well as any waviness in the overall workpiece, with a "floating" range of 8 mm that allows for a positive or negative travel of 4mm.



BENZ Inc., a member of the Zimmer Group, is the technological leader for the production of innovative machining heads for the wood, plastics, composites and metalworking industries. The company manufactures tooling in Germany and offers sales and support for North America through its subsidiary, BENZ Inc., from its Hickory, NC headquarters. For more information visit www.benztooling.com/woodtooling or call 704-529-5300.



FOR MORE DETAILS, CONTACT:

BENZ, Incorporated, 1095 6th Street Court SE, Hickory, NC 28602

sales@benz-inc.com

More from Architectural & Civil Engineering Products