Rider Sweeper is designed for indoor and outdoor jobs.
Press Release Summary: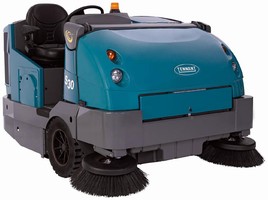 Ergonomically designed with operator compartment optimized for visibility, mid-sized S30 incorporates SweepSmart(TM) 3-stage dust filtration and control system that filters dust particles down to .5 microns at 99% efficiency. Multi-speed main brush control lets operator increase main brush, side brush, and vacuum speeds, while one-push start button remembers previous settings to facilitate set-up and operation. Sweeper has 4WD design with rear suspension and operates at 80 dBA.
---
Original Press Release:

New Tennant S30 Mid-Sized Rider Sweeper Offers Quiet, Productive Indoor/Outdoor Sweeping and Improves Operator Comfort and Safety



MINNEAPOLIS-(January 29, 2008)-Tennant Company (NYSE: TNC), a world leader in designing, manufacturing and marketing solutions that create a cleaner, safer world, today introduces its S30 Mid-Sized Rider Sweeper. Through a number of industry-leading innovations, the S30 delivers unprecedented performance and value in both indoor and outdoor environments.

"The Tennant S30 was designed with direct customer input to ensure it delivers exactly what our customers want and need when it comes to large-area sweeping and dust control," said Steven Coopersmith, vice president of global marketing for Tennant Company. "A reliable and durable machine, the S30 offers the industrial marketplace an opportunity to improve productivity, performance and safety while reducing operating costs."

Specific S30 innovations and product attributes include:

o SweepSmart(TM)-a three-stage dust filtration and control system that filters sub-micron dust particles with a nanofiber canister filter to create cleaner air and improve sweeping results;
o II-Speed(TM) Sweeping-a multi-speed main brush control that allows the operator to increase main brush, side brush and vacuum speeds up to 20 percent for more effective debris removal;
o Touch-N-Go(TM) Control Panel with 1-STEP(TM) Sweeping-a simple one-push start button that remembers previous settings to increase productivity and ease-of-use;
o EasyOpen(TM) Access-an easy-to-access engine, hydraulics and parts for quick servicing and improved productivity through reduced downtime;
o Cab Forward ErgoSpace(TM) Compartment-an ergonomically designed operator compartment that improves operator and facility safety by improving operator comfort and visibility;
o Quiet Operation-the S30 operates at just 80 dBA, the lowest noise level for an engine-powered sweeper in this class, reducing operator fatigue and improving air quality; and
o Four-Wheel Drive-a four-wheel stance and rear suspension, large tires that improve stability and ensure safety when moving between various indoor and outdoor sweeping surfaces.

According to Coopersmith, Tennant's patent-pending three-stage SweepSmart system is at the core of the S30's ability to deliver such superior cleaning results. A first-stage Perma-Filter(TM) keeps bulky debris and dirt in the hopper and out of the filtration system. A second-stage cyclonic filter system removes the majority of fine dust and moisture by directing it into the hopper. A third-stage fire-retardant, nanofiber canister filter traps dust particles down to just .5 microns at 99 percent efficiency.

"At Tennant Company, we don't just want to develop machines, we want to develop solutions and innovative technologies that exceed our customers' expectations and improve cleanliness, productivity and safety," he said. "SweepSmart is an example of a Tennant Company-developed technology that is making a difference for our customers."

Ideal for both indoor and outdoor sweeping in light and heavy manufacturing environments, warehousing, schools, and municipalities, the Tennant S30 includes dual side brushes which, combined with a 14-cubic foot (395 L) hopper, offer a single-path cleaning path up to 80 inches (2,030 mm).

About Tennant
Engineered by Tennant Company, Tennant-branded products help cleaning professionals be leaders in creating healthy, safe, and attractive environments. Tennant is recognized as a world-leading manufacturer of indoor and outdoor cleaning solutions and specialty coatings. Tennant's industrial and commercial sweepers, scrubbers, coatings, detergents, carpet cleaning equipment, vacuums, floor machines, burnishers and more deliver award-winning cleaning solutions to a number of industries, including education, healthcare, hospitality, retail, manufacturing, warehousing, and government. For more information on Tennant, visit www.TennantCo.com.

About Tennant Company

Minneapolis-based Tennant Company (NYSE: TNC) is a world leader in designing, manufacturing and marketing solutions that help create a cleaner, safer world. Marketed under the Tennant® and Nobles® brands, Tennant Company products include equipment for maintaining surfaces in industrial, commercial and outdoor environments; and coatings for protecting, repairing and upgrading concrete floors. Tennant's global field service network is the most extensive in the industry. Tennant has manufacturing operations in Minneapolis, Minn., Holland, Mich., Uden, The Netherlands, Northampton, United Kingdom, and Shanghai, China, and sells products directly in 15 countries and through distributors in more than 80 countries. For more information, visit www.TennantCo.com.

More from Laboratory and Research Supplies and Equipment