Rideable Saw minimizes operator fatigue.
Press Release Summary: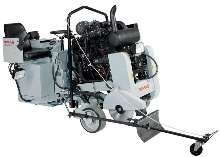 Utilizing Cummins 85 hp turbocharged diesel engine, Model RS 8500 delivers travel speeds up to 4 mph with zero turn radius for accurate alignment and cutting. It features 26 in. blade and inline right angle gearbox that uses 14 belts. Upcutting blade rotation lifts slurry from cut. Sealed bladeshaft assembly operates 250+ hours before needing to be greased. Single-handle control facilitates forward and reverse travel, as well as blade raising and lowering.
---
Original Press Release:
Operator Fatigue, Breakneck Production Schedules Addressed in Latest Generation of Rideable Saws

As production schedules accelerate, contractors find newest rideable saws cut faster than ever, with more consistency, and less effort

For road contractors, the only thing harder than the concrete they're cutting can be the project deadlines they're expected to meet - especially when accompanied by fines, traffic restrictions or ultra-low competitive bids. That's when operator fatigue can haunt a project, when the frantic pace simply can't be met by manhandling heavy, vibrating walk-behind saws.

"Operators can't work hard one day, then slow down the next to recover because schedules are always so tight," says Eric Trembath, a superintendent at CCS Roadways, a road and highway contractor in Blue Springs, Missouri. "To make production schedules, they've got to produce consistently every day."

In addition to the weight and vibration of traditional walk-behind saws, traversing miles of concrete day after day can exhaust operators, reducing both their short and long-term productivity. Low-powered, walk-behind saws have limited capability when it comes to cutting speed, travel time between cuts, versatility of cutting depth and blade alignment.

To meet tight production schedules on a range of cutting jobs from partial to full depth, road contractors must rely on more than pushing operators to their physical and mental limits. Contractors using the new generation rideable saws can get the job done -three times faster- than those using exhausting, labor intensive, walk-behind saws, according to Trembaer.

"It's like comparing a Corvette to an old Model "T", says Rich Tremain, Product Manager for Dimas, an Olathe, Kan.-based manufacturer of professional saws, drills and diamond tools. "The new generation rideable machines are a timely solution for road contractors who need to continuously push production without running their operators into the ground."

Some of the new generation rideable saws bring important new technology into the field, promising to make cutting faster, more consistent and easier than ever. While most saws typically have just eight belts driving the bladeshaft from an outside bearing support, Dimas' new RS 8500 rideable saw, for instance, has a new inline right angle gearbox configuration that uses 14 belts. The new design transfers power more directly and efficiently than traditional designs, harnessing 10% more engine power to drive the bladeshaft. Combined with a Cummins 85 hp turbocharged diesel engine that is 15 % more powerful that competitive models, the RS 8500 saw is up to three times more efficient than a 65 hp flat saw.

"Because the saw delivers more power to the bladeshaft, it's particularly good for joint repair, concrete removal/patching and panel replacement," says Trembath. "Extra power, when transferred into torque, keeps the blade spinning no matter how hard the surface you're cutting is. It boosts production when you can cut deeper swathes through concrete, finishing the job in two passes instead of three."

Where unscheduled equipment downtime and repair can be an issue on high maintenance equipment, some of the newest rideable saws have incorporated technology that simplifies maintenance and safeguards production time. While most concrete saws use pillowblock bearings that need to be greased daily and remain exposed to dust, rain and other hazards, the RS 8500 saw, for instance, features a protective sealed bladeshaft assembly that operates 250+ hours before needing to be greased. The patent-pending device significantly reduces maintenance and increases bearing life, making time-consuming bearing changes virtually unnecessary.

"On any job, the last thing you need is to spend six to seven hours changing out bearings because the saw ran out of grease and no one noticed," says Trembath. "The enclosed blade assembly makes bearing maintenance idiot proof."

To minimize downtime between cuts, the latest generation of rideable saws also boasts travel speeds as fast as four MPH as well as enhanced steering and other features. "The best of the new rideable saws have race car-like power steering with a zero-turn radius that allows easy maneuvering for accurate alignment and cutting," says Dimas' Tremain. "Single-handle control can make forward and reverse travel, as well as blade raising and lowering, fast and easy, too."

For maximum flexibility and productivity on the job, the new rideable saws offer improved, versatile blade capabilities. The RS 8500 saw, for instance, has upcutting blade rotation that "lifts" slurry from the cut, making it especially suitable for tasks such as joint widening or green concrete cutting. A 26" inch blade expands cutting capability beyond the standard rideable saw's 20" blades.

"The new machines not only drive faster between joint cuts, but also are more versatile for cutting at different depths from job to job," says Trembath. "All in all, they'll increase production three-fold over what walk behinds will do," he concludes.

Some new rideable saws now include features such as a parking brake, switch-controlled devices that shut them down under low water pressure conditions and light kits for evening operation.

Advances in cutting power, speed, efficiency, flexibility and ease of use now give road contractors the ability to meet demanding production schedules day after day, without wearing out their operators. By taking advantage of these new machines, road contractors can gain a lasting competitive edge in bids and operator productivity, enabling timely project completion even with traffic restrictions, while minimizing fines, operator fatigue, disability and turnover.

Dimas is one of the world's leading manufacturers of diamond tools and machines for the construction industry. Its products include diamond blades, diamond drill bits, diamond wire, grinding tools, wall saws, floor saws, drilling equipment and other machines for working on floors and concrete. Founded in 1972, Dimas is part of the Electrolux Construction Products Group.

For more info, write to Dimas North America at 17400 West 119th Street, Olathe, Kansas 66061; call 913-928-1000; email [email protected]; or visit the web site www.dimas.com.