Rhino II Vehicle Mount Computer features anti-glare multi-touch screen.
Press Release Summary: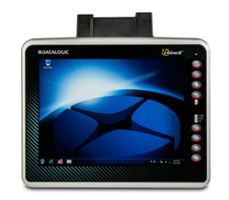 Offered with WEC7, Windows Embedded Standard 7 and Windows IoT operating system, Rhino II Vehicle Mount Computer comes in 10 in. or 12 in. size with 3mm armored glass. Unit is available in freezer-rated variant which is integrated with display heater and capacitive touch model which can be operated using gloves. Product features internal isolated power supply and ignition sense technology. Computer can be operated in a temperature range of -20 to 55°C and comes with a software keyboard.
---
Original Press Release:
Datalogic announces the Rhino II Vehicle Mount Computer
Rugged touchscreen ease for warehouse management efficiency
Datalogic, a global leader in automatic data capture and industrial automation markets, introduces the Rhino™ II Vehicle Mount Computer (VMC) designed to survive the rugged use found in warehouse, factories and distribution environments. This new VMC is offered with a wide array of operating system choices including WEC7, Windows Embedded Standard 7 and Windows IoT. The WEC7 version offers a path for optional field upgrade to Android™6.0 Marshmallow operating system.
The Rhino II VMC is available in either a 10" or 12" high resolution color touchscreen with 3mm armored glass bonded to the touch panel. The unit is tested to an IP67 rating and is available in various models to best fit specific application needs. A dedicated freezer-rated model with an integrated display heater allows use in and out of cold storage, and capacitive touch models feature 3mm anti-glare armored glass that operates when using gloves.
"The Rhino II Vehicle Mount Computer completes the full line of rugged mobile computers offered by Datalogic allowing our customers to single source for all their warehouse and distribution mobile computer needs," states Tom Burke, VP Mobile Computers at Datalogic. "The Rhino is aptly named; this tough device has the computing power, flexibility and ruggedness to deliver maximum productivity in the most extreme warehouse environments."
The Rhino II VMC is uniquely enabled with application specific features including an internal isolated power supply, ignition sense technology for automatic power control and an optional battery backup for protection against data loss. Mounting options include various brackets and RAM mounts for the device and ABCD or QWERTY external keyboards. A dedicated software keyboard is included with a multitude of layouts and languages making the Rhino computer the ideal solution for global applications.
Software tools for this device are dependent on the operating system chosen and can include various Datalogic Utilities, pre-licensed and pre-loaded Wavelink® Avalanche™ and Terminal Emulation.
The Rhino II VMC feature points also include:
Multiple processor boards to support various OS
Datalogic Aladdin™ development tool
Superior WiFi coverage with custom dual plane antenna
Anti-glare multi-touch screen, with glove support
Capacitive or Resistive touchscreen models
WLAN: IEEE 802.11 a/b/g/n, CCX v4
Bluetooth®Wireless Technology v4.0
Wired Ethernet (GbE) included
Wide operating temperature range from -20 to 55°C / 14 - 131°F (freezer 10" model to -30°C / -22°F)
Seamless integration with Datalogic fixed and handheld readers, 5/12VDC output available on serial ports; 2 USB ports available
The Rhino II is ideal for warehouse and factory forklift operations, in-vehicle applications and fixed applications on the factory floor where a rugged and sealed device is mandatory. Please consult with your local Datalogic sales team for further information on this exciting new product.
Datalogic is a global leader in the automatic data capture and process automation markets, specialized in the designing and production of bar code readers, mobile computers, sensors for detection, measurement and safety, RFID vision and laser marking systems. Datalogic solutions help to increase the efficiency and quality of processes in the Retail, Manufacturing, Transportation & Logistics and Healthcare industries, along the entire value chain. The world's leading players in the four reference industries use Datalogic products, certain of the attention to the customer and of the quality of the products that the Group has been offering for 45 years. Today Datalogic Group, headquartered in Bologna (Italy), employs approximately 2,700 staff worldwide, distributed in 30 countries, with manufacturing and repair facilities in the USA, Brazil, Italy, Slovakia, Hungary and Vietnam. In 2016 Datalogic had a turnover of 576.5 million Euro and invested over 50 million Euros in Research & Development, with an asset of more than 1,200 patents in multiple jurisdictions. Datalogic S.p.A. is listed in the STAR segment of the Italian Stock Exchange since 2001 as DAL.MI. More information about Datalogic at http://www.datalogic.com.
Related