Rheometer is optimized for nano-torque control.
Press Release Summary: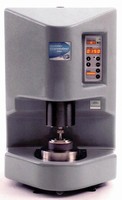 Able to probe weak or sensitive material structures and low-viscosity systems, Bohlin Gemini HR nano enables measurement and control of nano-torque levels and retains continuous working torque range to 200 mNm for complete rheological characterization. Modular product, featuring air bearing design coupled with Rotonetic(TM) 2 DSP drive system, allows torque and speed control across all steady, dynamic, and transient test modes. It can perform strain and stress controlled tests.
---
Original Press Release:


New Malvern Rheometer Optimized for Nano-Torque Control




Instrument will launch at 77th Annual Meeting of the Society of Rheology (October 16-20, 2005; Vancouver, BC)

A new addition to the Bohlin Gemini family of rheometers from Malvern Instruments is optimized for the control of ultra-low torques, and opens up new opportunities to probe weak or sensitive material structures and low viscosity systems. The new instrument will make its debut at the 77th Annual Meeting of the Society of Rheology (October 16-20, 2005; Vancouver, BC) for which Malvern is a primary sponsor.

Like all previous Bohlin High Resolution rheometers, the new Bohlin Gemini HR nano offers advanced technology with straightforward operation. While enabling the measurement and control of nano-torque levels, it retains a continuous working torque range to 200 mNm allowing complete rheological characterization. Allied to the most sensitive normal force measurement available, the Gemini HR nano offers the ultimate in instrument capabilities for weakly-structured systems.

Development of this new rheometer has been made possible through the continued advancement of Malvern's state-of-the-art air bearing design coupled with its patented Rotonetic(TM) 2 DSP drive system. The Bohlin Gemini HR nano's unsurpassed range and sensitivity allows torque and speed control across all steady, dynamic and transient test modes. Both strain controlled and stress controlled tests can be performed with ease.

As modular systems, the Bohlin Gemini rheometers offer a wide range of measurement geometries and accessories, with quick and easy configuration enabling their use for many different materials and applications. EasySwap(TM) temperature controllers include integrated Peltier devices, a forced gas oven with optional liquid nitrogen cooling, electrical heating and a variety of fluids circulators. Windows-based software allows easy programming for any test protocol and is equally suited to advanced research or routine QA/QC applications.

For information on the new system and its applications, view Malvern's audiovisual presentation at www.brainshark.com/malvern/gemini_hrnano_rheometer or visit http://www.malvern.co.uk/gemini

About Malvern Instruments

Malvern Instruments is a leading supplier of analytical solutions for particle characterization and rheological applications. Advanced technologies are combined with robust mechanical designs and comprehensive software to provide systems that measure material characterization data (size distribution, particle shape, zeta potential, molecular weight) and bulk material properties. On-line, at-line and off-line solutions are provided to meet QA/QC, control and development applications across a diverse range of industries. An extensive support service facilitates the optimal design and exploitation of any given system.

www.malvern.co.uk

For more information, please contact
USA contact:
Marisa Fraser, Malvern Instruments Inc
10 Southville Road
Southborough, MA 01772, USA
Tel: +1 508 480 0200
Fax: +1 508 460 9692
marisa.fraser@malvernusa.com

Please send sales enquiries to:
Alison Vines, Malvern Instruments Ltd
Enigma Business Park, Grovewood Road
Malvern, Worcestershire UK
WR14 1XZ
Tel: +44 (0) 1684 892456
Fax: +44 (0) 1684 892789
salesinfo@malvern.co.uk

www.malvern.co.uk


More from Electrical Equipment & Systems