RFID Wireless Traceability System serves cold chain applications.
Press Release Summary: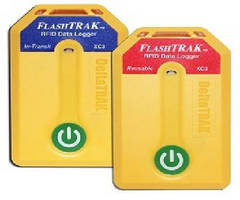 FlashTRAK RFID Temperature Monitoring Solution integrates FlashTRAK RFID loggers with ColdTRAK cloud application, promoting end-to-end cold chain visibility and traceability. In addition to supporting EPCglobal C1G2 FlashTRAK loggers, wireless solution extends read range and performance through support of ISO/IEC 18000-6:2010 Standard Class 3 Battery Assisted Passive RFID. Temperature data is automatically uploaded to cloud-based ColdTRAK Data Central for viewing, analysis, and sharing.
---
Original Press Release:

Deltatrak® Introduces New Cold Chain RFID Wireless Traceability Solution



DeltaTRAK FlashTRAK RFID Temperature Monitoring Solution Provides Temperature Visibility for Product Integrity and Compliance



PLEASANTON, Calif. -- DeltaTRAK®, a leading innovator of cold chain, environmental monitoring and food safety management solutions, today, introduced the new FlashTRAK RFID Temperature Monitoring Solution. This wireless solution integrates FlashTRAK RFID loggers with the existing ColdTRAK cloud application, providing new capabilities and improved performance in end-to-end cold chain visibility and traceability. The FlashTRAK solution uses the latest RFID technology and supports EPCglobal Class 1 Gen 2 (C1G2) FlashTRAK loggers, and extends the read range and performance through support of ISO/IEC 18000-6:2010 Standard Class 3 Battery Assisted Passive RFID.



"Our FlashTRAK RFID solution reads both passive RFID labels and our FlashTRAK single-use in-transit temperature loggers," said Frederick Wu, president and CEO of DeltaTRAK. "This gives the customer the ability to read loggers more efficiently, quickly and automatically and also adds the benefit of a cost effective recycling program."



Integration of FlashTRAK RFID technology with ColdTRAK makes it possible for customers to use low cost data loggers, like our FlashLink VU, USB and Mini, with the latest RFID technology of our new FlashTRAK loggers to achieve efficiency in operations with the automatic uploading of the data into ColdTRAK.



With RFID technology, the temperature data from the logger is read using DeltaTRAK FlashTRAK WAN/Ethernet Multi-Protocol (cellular) 3G RFID readers. These readers are typically mounted in the receiving area and can also be mounted inside vehicles to provide real-time temperature information during transit. Temperature data is automatically uploaded to the cloud-based ColdTRAK Data Central where it can be viewed, analyzed and shared. The solution ensures quality product temperature data is recorded and provides traceability, allowing customers to make accurate real-time decisions.



DeltaTRAK will be showcasing its FlashTRAK RFID Temperature Monitoring Solution at the Fresh Summit show (Booth #3189) in Anaheim, CA October 27-28, 2012.



About DeltaTRAK®

DeltaTRAK® is a leading innovator of cold chain management, environment monitoring and food safety solutions for the food, pharmaceutical, life sciences and chemical industries. The company's cold chain management solutions include a wide range of temperature, humidity, and pH monitoring and recording devices, such as data loggers, wireless systems, and a variety of professional thermometers. DeltaTRAK also manufactures facility and mobile environment monitoring solutions that provide real-time data access to centralized web/cloud based data. Headquartered in Pleasanton, California, DeltaTRAK has an RD facility in San Diego, California, a manufacturing and distribution facility in Modesto, California, and an electronic assembly plant in Shenzhen, China. Contact DeltaTRAK by phone at 1-800-962-6776 or by email at marketing@deltatrak.com. Additional information can be found at www.deltatrak.com.



Delta TRAK

PO Box 398

Pleasanton, CA 94566

More from Mechanical Power Transmission