RFID Transponder is suited for laundry industry.
Press Release Summary: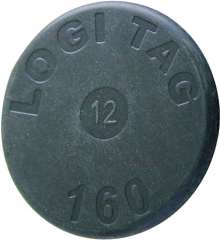 ISO 15693-compatible Logi TAG 160 Sedna enables contactless tracking and identification of garments in textile rental and laundry business. Laundry tag fulfills all requirements in terms of heat-, pressure-, and chemical-resistance. With 64-bit UID and 56-bit OTP (one time programmable) memory chip, tag also supports EPC data coding. Anti-collision feature allows transponder to read numerous tags within same antenna field, simultaneously.
---
Original Press Release:

Sokymat Launches the New Laundry Tag Logi TAG 160 Sedna


Logi TAG: open standard, state-of-the-art RFID technology
for the laundry industry

Frankfurt, June 6th 2004 - Sokymat SA, the world's leading supplier of RFID transponders, showcases at Texcare the Logi TAG 160 Sedna, the newest member of its Logi TAG family of RFID transponders specifically designed for the laundry industry.

The Logi TAG 160 Sedna is Sokymat's first ISO 15693 compatible laundry tag and offers all of the groundbreaking advantages of RFID technology. It is the ideal solution for contactless tracking and identification of garments in the textile rental and laundry business and fulfills all requirements in terms of heat, pressure and chemical resistance necessary to face the harsh environment typical of this industry segment. The new Sokymat tag, with its 64 bit UID and 56 bit OTP (one time programmable) memory chip, which provides the best price / performance ratio available on the market, also supports EPC data coding.

Sokymat launched the Logi TAG 160 H, the first 13.56MHz I-code based laundry tag, in 2002. Broadly adopted by the industry, the Logi TAG 160 H features read/write functionality and is the smallest 13.56MHz laundry tag available on the market with a diameter of only 16mm. It has been designed to optimize the balance between transponder size and reading performance and features 512 bit memory allowing to store an extensive quantity of data.

The memory chips of Sokymat's Logi TAG family of laundry tags store a unique serial number that allows to unequivocally identify the transponder throughout its entire life cycle. In addition to its outstanding performance and reliability, the Logi TAG transponder allows to obtain the highest level of process automation and speed thanks to its anti-collision feature. This characteristic allows the transponder to read numerous tags within the same antenna field at the same time.

About Sokymat

Sokymat is a leading manufacturer of RFID transponders, offering the broadest range of tags available on the market today. Thanks to its unique know-how in packaging technology, the company is capable of designing and manufacturing virtually any type of custom transponder, perfectly suited to the specific operating environment and packaging material requested by the customer - including metal.

Headquartered in Granges, in the heart of French speaking Switzerland, the company specializes in RFID transponders and boasts expertise encompassing all areas of radio frequency identification, both in terms of frequencies (125/134.2 kHz, 13.56 MHz and UHF) and in terms of RFID system components (chips, tags, antennae and readers).

For further information, please contact:

Philippe Held
SOKYMAT SA
Product Manager
Industry & Logistics
Tel. +41 (0) 21 908 01 46
Fax. +41 (0) 21 908 01 01
E-mail: ph.held@sokymat.ch

Pier Costa
Wise Media S.p.A.
Piazza Duca D'Aosta 10
20124 MILANO - ITALY
Tel: +39 / 02 / 67388322
Fax: +39 / 02 / 67388322
Pier@wisemedia.it

Related