RFID Tag suits indoor asset tracking applications.
Press Release Summary: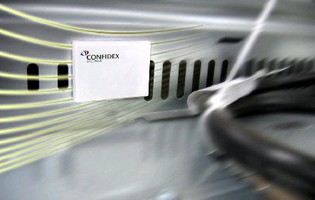 Measuring 45 x 32 x 6 mm, Steelwave EPC Class 1 Gen 2 Tag is coated in synthetic film and attached to metal objects using adhesive. When attached to containers, trays, or electrical equipment, unit offers read range of 4-6 m. Transponder features IP40 casing and operates at frequencies between 865-868 MHz or 902-928 MHz. Unit is suited for tracking parts in assembly lines, locating components in warehouses, and safeguarding valuable assets via RFID-based surveillance.
---
Original Press Release:

Confidex' Steelwave Gen2 RFID Tag Steals a March on Labels



The only low-cost compact EPC tag for indoor on-metal asset tracking applications

Nokia, Finland, 5 October 2006 - Confidex, the RFID tag design and manufacturing specialist, has launched Steelwave, a versatile UHF EPC Class 1 Gen 2 RFID tag for indoor tracking and asset management applications. Unlike standard RFID labels, the Steelwave tag works also on metal-based objects.

The 45x32x6 mm (1.8x1.3x0.23 inches) RFID tag from Confidex is coated in a synthetic film and is attached to metal objects using an adhesive, already applied to the synthetic film. When attached to metal objects, such as containers, trays and electrical equipment, it has read range of four to six meters.

The Steelwave transponder is ideal for applications such as tracking parts in assembly lines, locating components in a warehouse environment, and safeguarding valuable assets via RFID-based surveillance systems. Confidex' tag has successfully been tested in asset tracking applications on a several different items, from electrical appliances and other portable objects found in public places, to expensive and vital medical devices.

The Steelwave tag, featuring a robust IP40 casing, operates at frequencies between 865-868MHz or 902-928MHz.

About Confidex
Confidex, headquartered in Nokia, Finland, is a fast growing company with unique expertise in RFID design, manufacturing and engineering. The company's highly experienced team has enabled Confidex to quickly become the trusted partner for major vendors and end-users in the RFID industry.

Confidex' core competencies and experience span HF (high frequency) and UHF (ultra high frequency) tag design, manufacturing and quality assurance testing. The company is also specialized in optimizing the RF link between tag and reader, including reader antenna design.

Through its Chinese subsidiary XinTag, Confidex also produces high reliability, low-cost contactless paper and plastic tickets for the mass transit market.

For more information contact:
Timo Lindstrom
CEO
Confidex
Tel. +358 3 341 5927
Timo.Lindstrom@confidex.fi

More from Material Handling & Storage